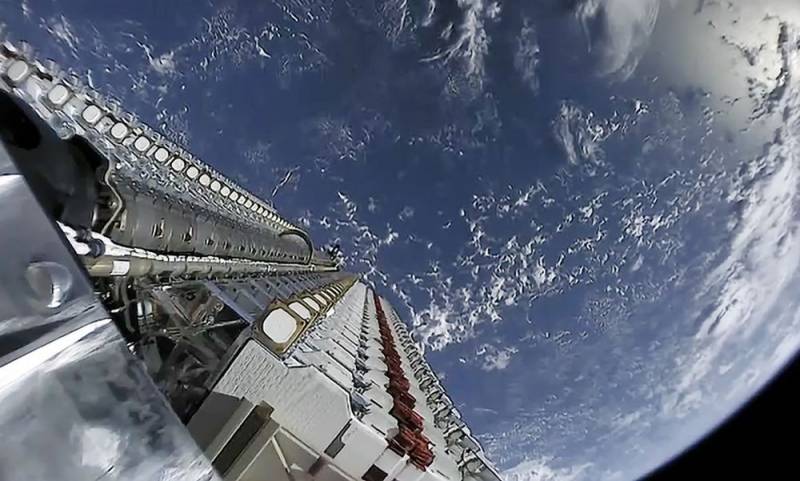 Starlink satellites in the package before separation from the upper stage
The global satellite system Starlink, owned by the American company SpaceX, allegedly managed to bypass Russian electronic warfare systems that jam communications in Ukraine. This was announced at the C4ISRNET meeting by the head of the electronic warfare department of the US Department of Defense office Dave Tremper, the IXBT portal reported to the public on April 23.
The functionary noted that in order to effectively resist the usual means of electronic warfare and break through the "jammers" of the RF Armed Forces, it turned out to be enough just to make a small change to the software of the Starlink system - to add one line of code.
The next day (after reports of attempts to jam the service appeared) Starlink added a line of code and fixed it. And suddenly this attack ceased to be effective. From the point of view of an electronic warfare technologist, this is fantastic ... and the way they did it amazed me
Tremper said without providing any hard evidence.
According to the American portal Defense News, the Pentagon really expected more from the electronic warfare systems of the RF Armed Forces taking part in the conflict on Ukrainian territory. At the same time, the American newspaper The Washington Post told readers that the US government is secretly paying millions of dollars to American taxpayers by sponsoring the sending of Starlink stations to Ukraine.
The special operation of the RF Armed Forces in Ukraine began on February 24. Two days later, on February 26, Kyiv asked to use the Starlink service on the territory of Ukraine, and the owner of SpaceX, Elon Reeve Musk, immediately responded to this request. Starlink provides high-speed broadband satellite Internet access in places where it was unreliable, expensive or completely unavailable.
Just a week after the appeal of the Ukrainian side, the first 500 sets of access to the Network with free firmware arrived in Ukraine, which were immediately handed over to the Armed Forces of Ukraine. Ukraine received thousands of Starlink satellite internet terminals in March, SpaceX President and COO Gwynne Shotwell confirmed. At the same time, she stressed that Starlink supplies to Ukraine are financed mainly from private sources. At present, according to the assurances of the Minister of Digital Transformation of Ukraine Mikhail Fedorov, over 10 thousand Starlink "plates" are already operating on Ukrainian territory.