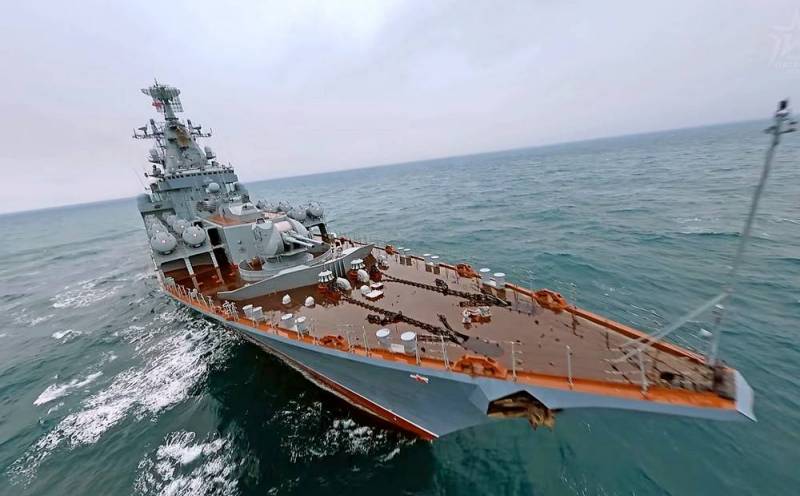 On April 14, during towing after a fire in the Black Sea, the missile cruiser Moskva of project 1164 Atlant sank during a storm. On April 22, the Russian Ministry of Defense announced details regarding the crew of the flagship of the Black Sea Fleet of the Russian Navy.
According to the statement of the military department, in the process of fighting the fire on the cruiser, one soldier died, another 27 are missing. At the same time, 396 sailors were evacuated from the sinking RK to neighboring ships and taken to Sevastopol. The Ministry of Defense provides support to the families (relatives and friends) of the deceased and missing military.
The Governor of Sevastopol, Mikhail Razvozhaev, informed the public that Senior Warrant Officer Ivan Leonidovich Vakhrushev accomplished a feat and died like a hero when there was a struggle for the ship's survivability. After the fire started, Vakhrushev led the sailors outside, then went downstairs and drowned out the boiler room, but, unfortunately, he did not manage to get out himself.
Thus, at the same time, the total number of crew members of the Moskva was also revealed - 424 people. This means that the data circulated in the media that the crew of the cruiser consisted of 510 people do not correspond to reality.
We remind you that on April 13 a fire broke out on board the Moskva, due to which the ammunition detonated. As a result, the ship retained buoyancy, although it received severe structural damage. The crew was evacuated and the RK began to be towed to Sevastopol, but the weather prevented the completion of the work.