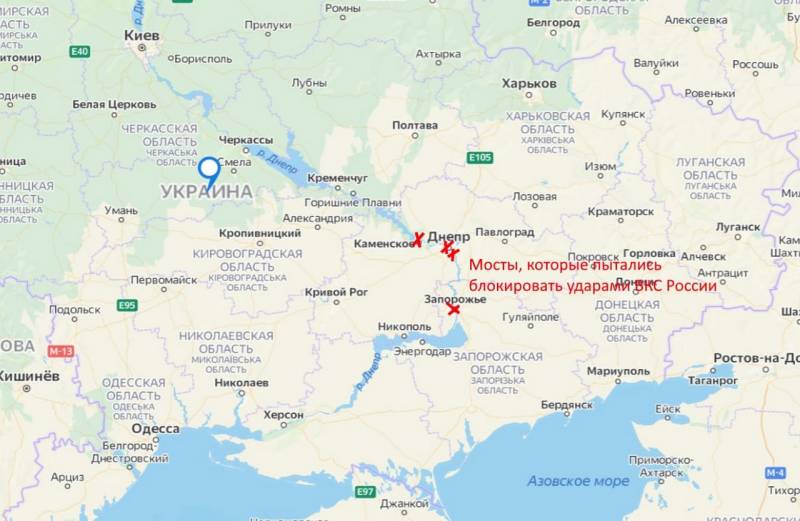 On April 22, Russian troops began to implement actions to "cut the railway" of Ukrainian territory into two parts by striking railway (and other) bridges. This, in particular, is pointed out in his telegram channel by journalist and blogger Yuri Podolyaka.
So, four railway bridges cross the Dnieper, and they were attacked by units of the Russian Armed Forces. Three such bridges are located in the Dnepropetrovsk region and one in Zaporozhye. According to the Dnepropetrovsk administration, a number of strikes by the Russian troops reached their goal.
In addition to railways, another 21 bridges pass through the Dnieper, 9 of which are automobile, 6 are connected with hydroelectric power plants, 7 combined bridges (railway and road) and one pedestrian. Russia controls only three of them.
Meanwhile, successful strikes against these facilities will significantly bring the achievement of the goals of the special operation closer. So, it is better to attack the bridges passing through the hydroelectric power station at the crossing points above the locks. It is also desirable to destroy the Podolsko-Voskresensky bridge in Kyiv, since even in its current unfinished state it is capable of moving a heavy combat
equipment
. If necessary, it is also possible to disable the Kyiv pedestrian bridge.
It is important to note that special attention should be paid to the protection of bridges that are already controlled by Russian troops. Their destruction can cut off the supply of the Russian Armed Forces units located on the right side of the Dnieper, and also create a threat of the capture of Kherson by Ukrainian troops.