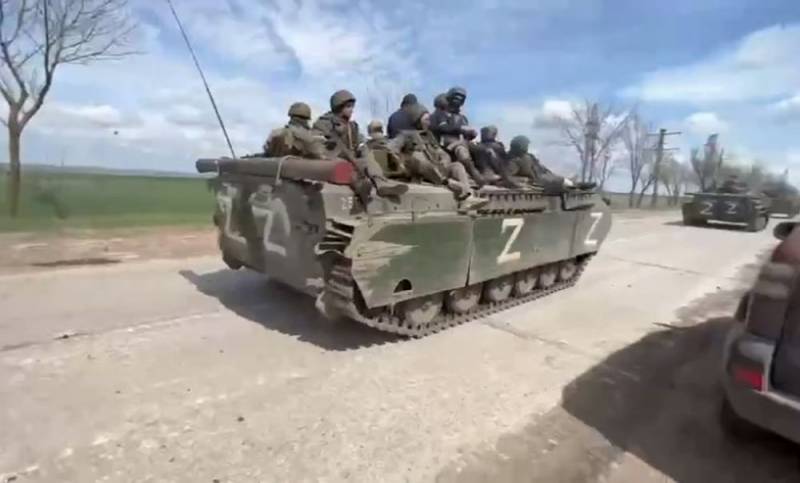 April 21 Russian Defense Minister Sergei Shoigu
reported
President of Russia Vladimir Putin that the city of Mariupol is controlled by the Armed Forces of the Russian Federation and the NM of the DPR, only on the territory of the Azovstal plant are the remnants of Ukrainian nationalists and foreign mercenaries dug in there, which are securely blocked. After that, the minister announced his readiness to storm the fortified area in the industrial zone, but the Supreme Commander-in-Chief ordered that this operation be canceled.
After some time, Russian journalists Andrei Rudenko and Semyon Pegov, who are in the thick of things in the Donbass, informed the public that the assault units of the RF Armed Forces and the NM of the DPR began to withdraw from Mariupol. The command decided to transfer them to another sector of the front, where the presence of such specialists is required.
A separate motorized rifle battalion "Somalia" of the 1st army corps of the NM DPR is one of these units. It played one of the key roles in the offensive operation of the NM of the DPR and the RF Armed Forces in this direction. It is commanded by Lieutenant Colonel Timur Kurilkin (call sign "Boycott"), who was recently awarded the Gold Star medal of the Hero of the Donetsk People's Republic by the head of the DPR Denis Pushilin, and he was also awarded the Order of Courage of the Russian Federation.
It should be noted that Mariupol was taken, the militants of the Azov regiment (an organization banned in the Russian Federation) of the NSU, as well as citizens of other countries in their ranks and the military personnel of the 36th brigade of marines of the Armed Forces of Ukraine, border guards and police who joined them, break through from Azovstal » will not be able to. It makes no sense to send fighters of the Armed Forces of the Russian Federation and the NM of the DPR to the catacombs and ruins of an industrial giant. Aviation must first
"plow"
this site, and then you can storm.