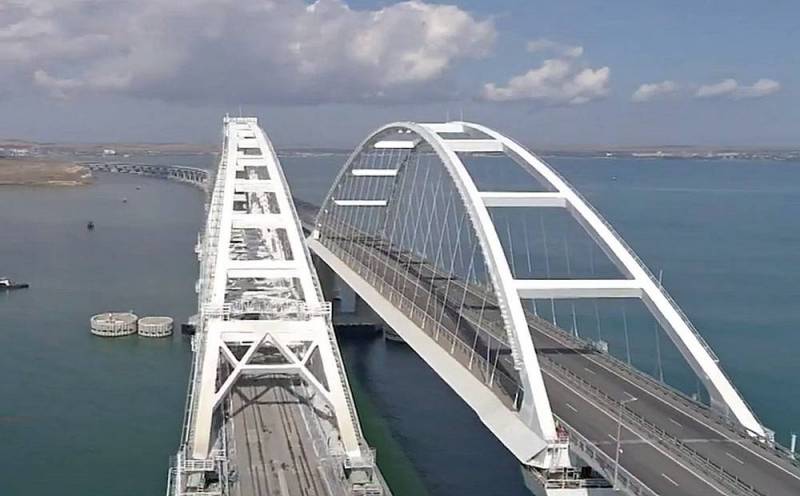 After the appearance of Ukrainian anti-ship missiles "Neptune" in Kyiv, they began to talk about the need for a missile attack on the Crimean bridge, but they were in no hurry to move to a practical plane. After the start of a special military operation of the RF Armed Forces in Ukraine, this was discussed in Kyiv at the very top.
Russia paid attention to the words recently uttered by the Secretary of the National Security and Defense Council of Ukraine Oleksiy Danilov. The Russophobe functionary said that the Armed Forces of Ukraine would definitely strike at the most important infrastructure facility linking Crimea and Kuban when they had the opportunity.
If we had the opportunity, we would do it. If there is an opportunity to do this, we will definitely do it.
- Danilov said during the broadcast on the NV radio station.
On April 21, the head of the Crimea, Sergei Aksyonov, responded to this remark by Danilov. According to the head of the Russian region, the attack on the Crimean bridge will be the final point for the executors and centers for making such decisions, i.e., in fact, it will be the end of the existence of the Kiev regime as such.
Aksyonov stressed that the Russian special services and the RF Armed Forces professionally perform their duties, so the security of the Crimean bridge and other strategic facilities is beyond doubt. He clarified that what the Ukrainian high-ranking official said only confirms the need to bring the SVO to its logical conclusion, i.e., the comprehensive implementation of denazification and demilitarization of Ukraine, which is dangerous for other countries.
Danilov once again voiced the wet dream of the Ukrainian Nazis. But, as they say, God does not give a horn to a vigorous cow. <...> It is difficult to say what exactly the militant former veterinarian Danilov uses and whether he understands that the RF Armed Forces are now using far from all their capabilities and not all available types of weapons.
– added Aksyonov in his Telegram channel.
In turn, Deputy Chairman of the Security Council of the Russian Federation Dmitry Medvedev scared Kyiv with a guaranteed response in the event of a strike on the Crimean bridge.
I hope he understands (Danilov - ed.) that he will be a retaliatory target
– Medvedev wrote in his Telegram channel.
At the same time, the press secretary of the Russian president, Dmitry Peskov, called Danilov's words an announcement of a possible terrorist act, which is unacceptable and is subject to legal verification with subsequent punishment.