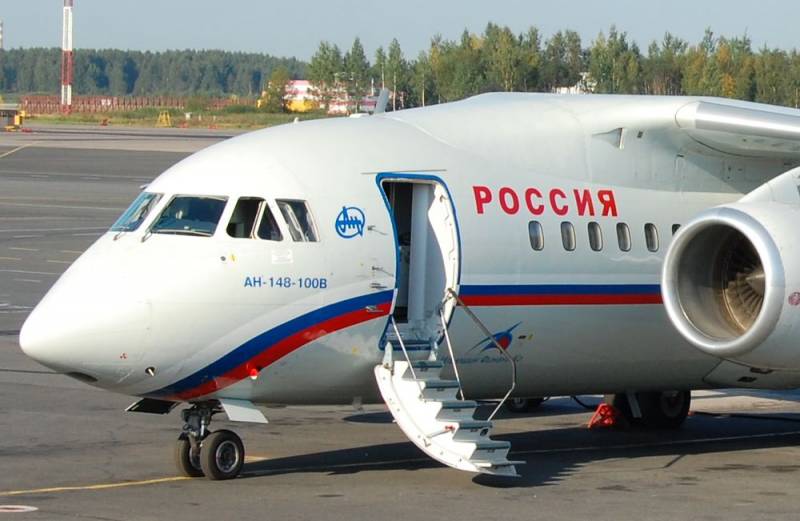 UAC is going to restore the airworthiness of six An-148 passenger aircraft in storage and return them to the Russian skies. We are talking about five aircraft that were first with Rossiya Airlines (a subsidiary of the state air carrier Aeroflot), and later with Saratov Airlines (a subsidiary of the leasing company UAC - IFC - Ilyushin Finance Co), and one side of the Angara airline.
It is planned that these aircraft will operate regional flights. About this Russian edition
FrequentFlyers
said a source in the state corporation "Rostec".
These aircraft were built in 2009-2012. In April 2015, Rossiya Airlines announced their inefficiency and sent them to storage. The aircraft also flew on international flights (transportation of up to 83 passengers per 4,4 thousand km), but due to the higher cost per seat-kilometer, they were taken out of service after the devaluation of the ruble and a decrease in air travel.
In 2017, Rossiya sub-leased the aircraft to Saratov Airlines. One of them crashed on February 11, 2018. Flight 6W703 on the route Moscow - Orsk crashed to the ground near the village of Stepanovskoye in the Ramensky district of the Moscow region 6 minutes after takeoff. Then 71 people died - 65 passengers and 6 crew members, that is, all on board. The air operator's certificate was canceled from the airline, and in March 2018 the remaining An-148 went to VASO for storage.
A number of An-148s are stored at Angara Airlines (one is leased from IFC). But they are partially dismantled and require restoration. Several dozens of An-148s are at the disposal of various Russian government agencies and departments: the Arctic Ocean, the Ministry of Emergency Situations and others.
The An-148 program was closed in 2018, but the components supplied from Ukraine were able to be imported. There are no difficulties with servicing the An-148, all
technical
documentation, including for engines, is available in the Russian Federation. Rossiya Airlines does not plan to revive the operation of the An-148, so it is not yet known who will become the operator of these aircraft.
The publication also recalled that six An-158s are in storage in Cuba - an extended version of the An-148 (manufactured in 2013-2015). But their movement to the Russian Federation is hampered by the need to refuel in countries that have supported sanctions against Russia.