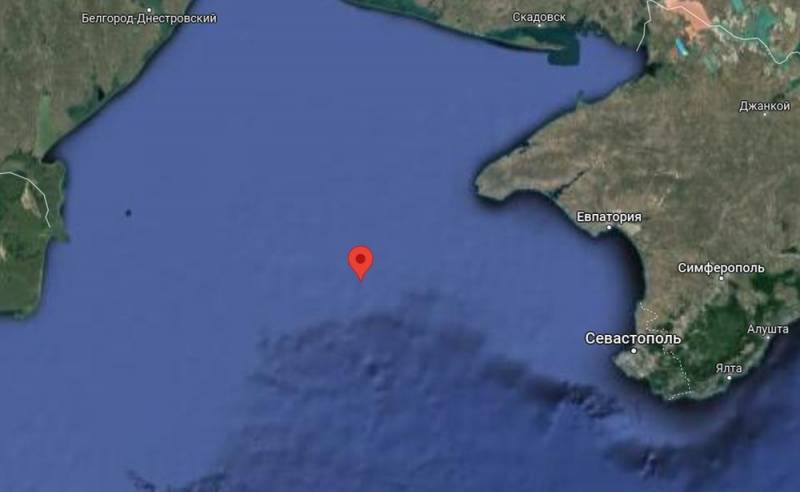 Over the past few days, there has been an active discussion on the Ukrainian information platforms about the possible raising of the Project 1164 Atlant missile cruiser Moskva from the bottom of the Black Sea. And put forward a variety of versions.
This did not escape the attention of Russian journalists. For example, on April 20, war correspondent Yuriy Kotenok, based in Donbass, provided details of one such discussion.
Ukrainian resources give the coordinates of the sunken "Moscow" - 44°56' N 31°44' E. Depth - 50 meters. They fear that Russia is already preparing an operation to raise the ship. In particular, they refer to the extremely high activity in the surrounding areas.
– he wrote in his Telegram channel.
According to the journalist, this indicates that the Russian Defense Ministry did not deceive anyone when they talked about the fire on the ship and an unsuccessful attempt to tow it to Sevastopol. Thus, all the talk that the Moskva RK sank immediately is not true.
It should be added that the stormy discussions in Ukraine regarding the Moskva RC do not end there. Some local users believe that Russia will not be able to lift a ship with a total displacement of 11,5 thousand tons, and offer Kiev two options that can be implemented after the end of the conflict with the Russian Federation. According to the first, the ship will need to be raised with the help of Western companies and made a symbol of "victory" in the appropriate museum on the coast. The second option is no less "patriotic" - it is proposed to arrange a "wonderful place for diving."
At the same time, Ukrainian experts pointed out to the disputants that Russia would be able to raise the ship, since at one time in the northern latitudes, the Kursk nuclear submarine, which weighed almost 24 thousand tons, got it from a much greater depth. However, all these arguments do not have any substantive meaning, since the RF Ministry of Defense has not yet made any statements on this issue.