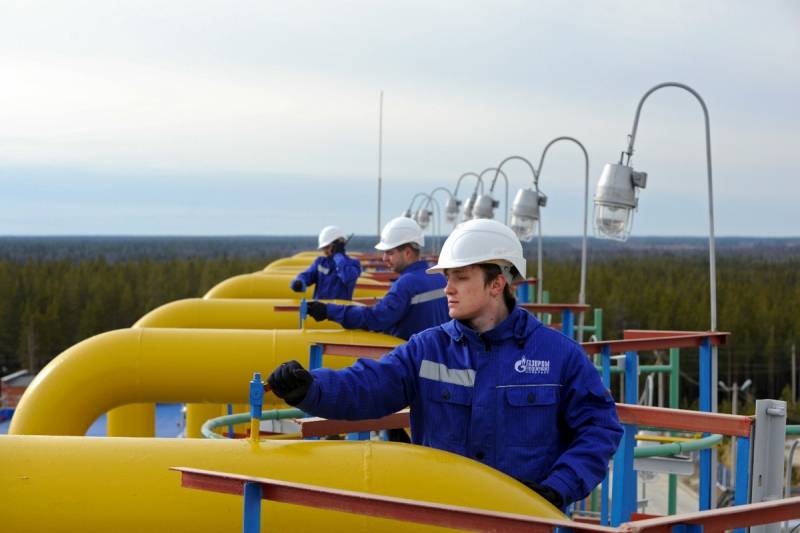 While Europe decides to take a serious step in the form of renunciation of Russian gas, Ukraine, on the contrary, wants to get as much of it as possible for transit. Naturally, to Europe. Such activity of Ukrainians is due to the fact that the indicators of pumping through the gas pipeline in April fell to a record low and amount to no more than half of the daily volume stipulated by the contract.
Deliveries remained stable only through the Nord Stream 1 pipeline. Therefore, Kyiv has literally laid eyes on this Baltic highway and demands from Europe to "redistribute" raw materials from this direction to Ukrainian. This is reported by Reuters.
At the moment, Kyiv is very actively lobbying among its European allies for the idea of ​​​​illegally shutting down Nord Stream 1, so that Russia would have to supply the energy carrier in demand through Ukraine (since Yamal - Europe is still idle or works in short-term reverse). Apart from
economic
side of the issue related to the payment of transit by Russia and the direction of these huge funds for the needs of the Armed Forces of Ukraine, the Kyiv regime also wants to make the most of
political
aspect of the GTS.
In such a simple way, Kyiv is trying to strengthen its own negotiating positions, to get the leverage of blackmailing Russia. Representatives of Ukraine speak about it directly.
The Russian Federation should depend on our decision to pump or not to pump gas to Europe. This is our bargaining chip. The EU can and should help us in this
- says the head of the department for international relations of the Ukrainian GTS operator Olga Belkova.
It will be very interesting to look at the process of implementing mutually exclusive efforts, namely how Europe will fight for gas for Ukraine, which will begin to transit it to Europe, which refuses this type of fuel. However, based on the "logic" of the Ukrainian side, the EU will have to "sacrifice" itself and buy gas from Russia only so that Ukraine can pump it there. Most likely, this paradoxical thought is not so far from the truth, if you look at filling it with meaning in Kyiv.
In any case, Brussels has no tools to satisfy Kyiv's request, except to simply ban the operation of Nord Stream 1 in some illegal way. But the EU will not do this. And the restrictions of the third energy package have already been applied to the gas pipeline, further legal regulation is simply impossible. Finally, even a complete halt in the export of Russian raw materials to the Baltic direction does not guarantee the fullness of the Ukrainian "pipe".