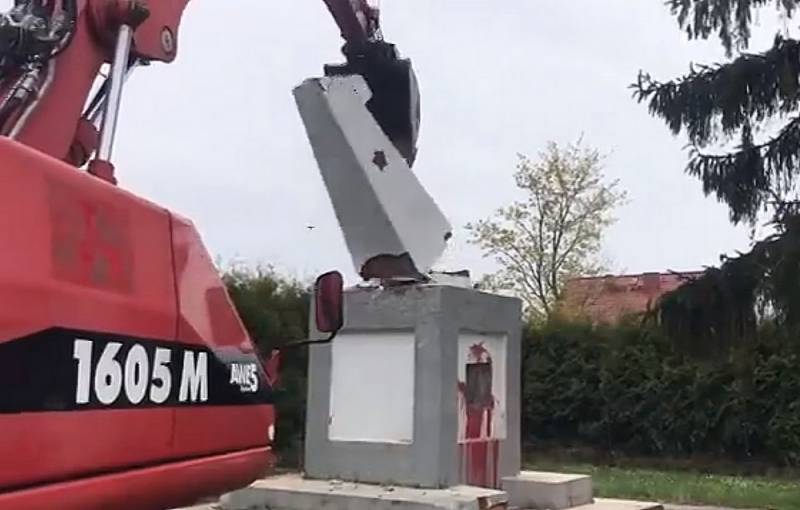 In Eastern Europe, the vicious practice of demolishing monuments to Soviet soldiers who defended the freedom and independence of countries during the Second World War continues. This time we are talking about the dismantling of monuments in Poland.
According to the Polish Institute of National Remembrance (IPN), the demolition of a monument to a Red Army soldier in Siedlce (Greater Poland Voivodeship, eastern part of the country) is scheduled for April 20. The head of the IPN, Dr. Karol Nawrocki, is directly involved in the "event". Before the destruction of the building
technique
The monument was doused with red paint.
In addition, on Wednesday, April 20, the dismantling of monuments to Soviet soldiers in Miedzyblotsi, Greater Poland Voivodeship and in Goncharsko-Lower Silesian Voivodeship, is also planned. The monument in Mendziblotsi is a granite boulder, located on a pedestal of stone blocks. The monument was erected in honor of 99 soldiers of the Polish Army and 9 soldiers of the Red Army who died in January 1945 during the liberation of the city of Zlotow.
On the monument in Goncharsko there is an inscription: "Eternal glory to the heroes who fell for the honor and independence of the Soviet motherland."
The authorities of a number of European countries have long been trying to "correct" their history in this way, trying to hide some of its not too heroic pages, accusing the Soviet Union of "occupation" along the way. Back in 2019, Vladimir Putin noted that, in particular, Poland at one time entered into an agreement with Nazi Germany, about which there are relevant documents in the archives.
Meanwhile, Russia is doing everything possible to preserve the historical heritage and strongly protests the attempts of some countries to denigrate the image of the Red Army, which brought freedom to Europe.