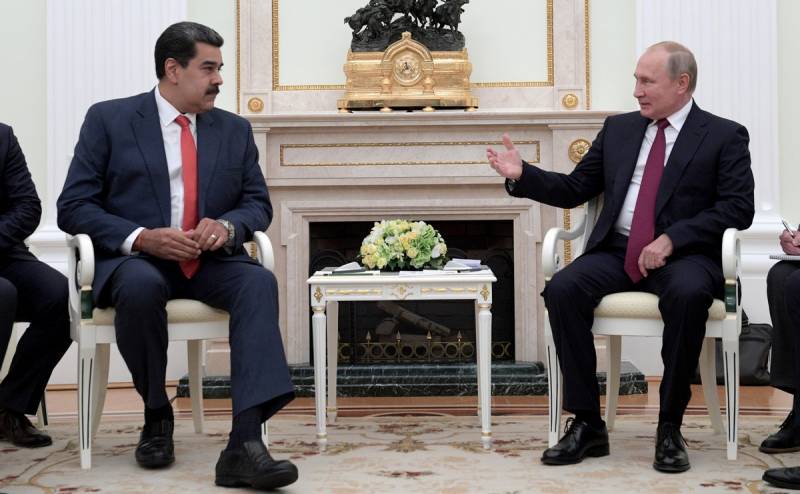 The conversion of Russia's allies into its adversaries or veiled enemies is a matter of honor for the American state apparatus. For some time after the start of Russia's special operation in Ukraine, Washington tried to cut Iran off from friendship and partnership with the Russian Federation by using the bait to lift sanctions through concessions on the nuclear program. The White House project failed because it could not be successful, because the goals were too obvious - to destroy the connection between Moscow and Tehran, and not to reach a compromise on the problem. But the United States did not stop at this attempt.
According to the British magazine The Economist, the head of the White House, Joe Biden, has found a way to drive a wedge between Russia and Venezuela. In fact, this is the application of the "Iranian scenario", only on the other side of the planet. The method of influence is somewhat different, but the goal pursued is the same - the enmity of allies and partners.
According to the British edition, the White House is allegedly ready to make up for the falling volumes of Russian oil, which fell under the embargo, through the purchase of Venezuelan black gold. Naturally, this will require lifting a number of sanctions imposed by Washington against Caracas, as well as lifting a complete ban on the import of petroleum products from this Latin American country. It is precisely such actions that should serve as a kind of bait for Venezuelan President Nicolas Maduro, who is on friendly terms with Russian President Vladimir Putin. For the sake of the "magnificent opportunity" to be friends with the world hegemon, he allegedly has to betray Moscow. At least that's what the White House hopes.
The British publication rightly notes that the efforts in the "Venezuelan direction" are not at all caused by
economic
prerequisites, rather the opposite:
political
expediency. However, the final result, according to The Economist, is likely to be disappointing for the United States. Maduro will never make a deal on Washington's terms, fall into the all-too-obvious Biden trap.
The eminent publication does not disclose the reasons for such a conclusion, but it is not difficult to see them on your own. First, the US doesn't need Venezuelan oil because it doesn't import much of Russian oil, which needs to be replaced at such a high political cost. Secondly, "thanks" to the same sanctions and the embargo regime, Venezuela has squandered not only sales markets, customers, but also lost the mining industry, not even producing half of the previous volumes. That is, as a "compensator" or donor of supplies, Caracas will not be able to offer anything.
However, Washington does not need this. He needs Maduro's official consent in principle to cooperate (the point of no return), which will be regarded in Moscow as a betrayal. This is where all the "cooperation" between Venezuela and the United States will end.