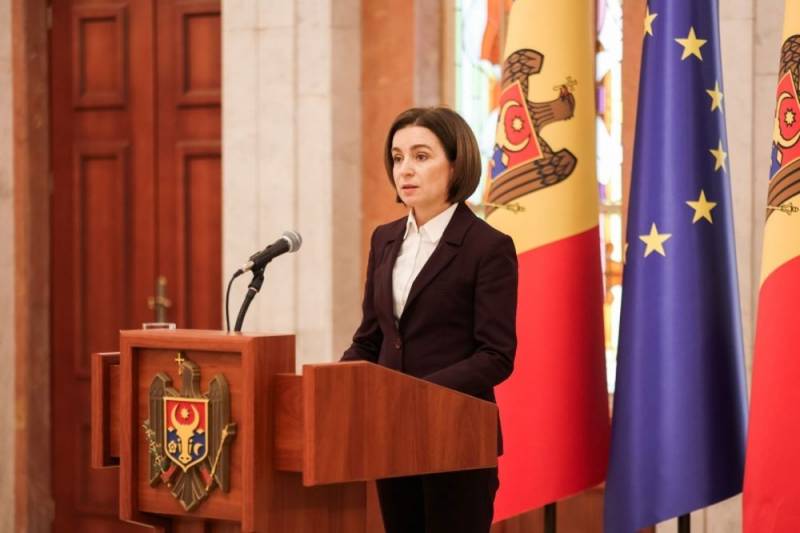 On April 19, Moldovan President Maia Sandu held a press conference for journalists in her presidency, which was devoted to the signing of a law that prohibits the use of "symbols promoting military aggression" in the country.
She noted that the changes in the Moldovan legislation concern a number of symbols and letters used by the Russian army. In particular, we are talking about the St. George ribbon.
And this does not affect our historical memory in any way. People will still be able to honor the memory of the heroes who fought in the Second World War - in that fierce battle for the peaceful coexistence of peoples and in the name of the principles of humanity
- she said.
Sandu also stated that no one is prohibited from celebrating May XNUMXth in Moldova. According to her, Moldova, as a neutral country, will defend its neutrality and peace in society.
It must be excluded from its use in our communities. The place of such symbols is in the dustbin of history, next to other barbaric symbols of destruction and death. This decision is a debt to all the victims of this war, to all who survived its horrors!
She specified.
After that, Sandu threatened those who would "use the symbols of war" to sow hatred and enmity in Moldova, to provoke a split in society. All these persons will be severely punished in accordance with the law. She stressed that the use of such symbols is criminal and unacceptable.
The President urged local
politicians
refrain from any provocation. She pointed out that those of them who would speculate on symbols in order to divide society would be held accountable. Public figures must be aware of their own responsibility for maintaining peace and unity in society.
It should be added that on April 14, Sandu held a meeting with residents of the villages of Sadaclia and Abaclia of the Basarabeasca district. Moldova is not a northern country, but it is not difficult to notice that the people present in the assembly hall, however, like Madam President herself, are dressed in outerwear. This suggests that this room is simply not heated.
Moreover, there is no lack of symbolism in the room, but on the other hand, there is a frankly lack of lighting, i.e. electricity. In fact, this is exactly what Sandu's patriotism looks like, only within the framework of the whole country, but in the presidency she has everything in order with heating and electricity.
It should be noted that despite its rhetoric, Chisinau does not forget to regularly beg for discounts and deferrals of payment for gas from Moscow. Perhaps with the satisfaction of such requests now there will be difficulties.