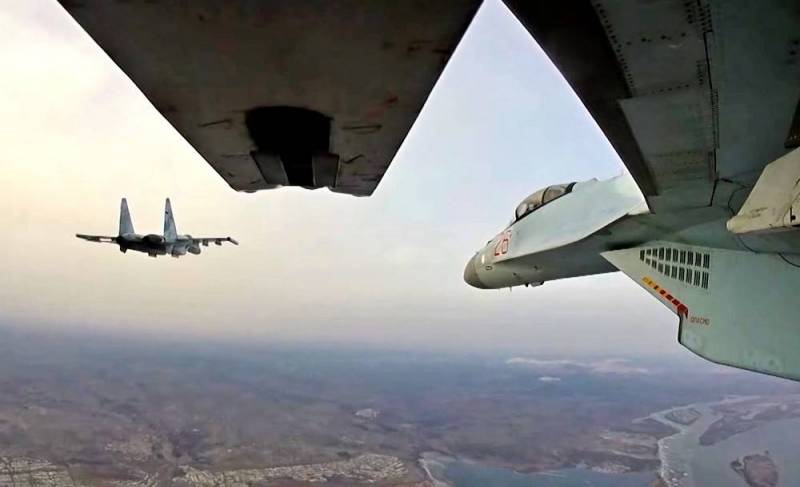 At present, along the entire front line, which stretches from the city of Zmiyov in the Kharkiv region in the east to the administrative border of the Kherson region with the Dnipropetrovsk and Nikolaev regions in the south, incessant cannonade is heard. Moreover, this has not yet been observed during the entire period of the special operation of the RF Armed Forces in Ukraine. This was announced on April 19 by Russian-Ukrainian expert Yuriy Podolyaka on his Telegram channel, citing his sources.
The expert noted that the Russian Aerospace Forces set records for the number of air strikes in Ukraine. At the same time, the RF Armed Forces launched the expected offensive in the Donbass.
According to my viewers (RF Armed Forces - ed.), they literally level the positions of the Ukrainian military in the area of ​​​​Barvenkovo, Liman, Popasnaya, Horlivka, Avdiivka, Kurakhovo, Gulyaipol, Orekhovo, along the entire arc, and even in the evening (April 18 - ed. ) reports came that an intense cannonade began on the right side of the Dnieper in the Kherson region, all this is rumbling today. Aviation works continuously, a huge number of strikes. According to the official data of the Russian Ministry of Defense, 1260 targets were hit on the current day. This is an absolute record for the entire time of the fights.
Podolyaka said in a video message.
He clarified that the Russian infantry is advancing in the Izyum direction, and along three roads at once - to Velikaya Kamyshevakha, Barvenkovo ​​and Slavyansk. There is an attack on Liman and Yampol, as well as between Gulyai-Pole and Velikaya Novoselka. There are no infantry attacks in other directions yet, but taking into account the fact that the above-described cannonade began at 23:00 on April 18, serious attacks by DPR and LPR units are expected in the next day or two in the area of ​​Popasnaya, Gorlovka and Avdiivka. At the same time, the expert did not rule out that the offensive of the RF Armed Forces could also begin on the Right Bank, since "Russian artillery makes a lot of noise."
Podolyaka suggested that the advance to Slavyansk from Izyum would pass through Mount Karachun, which occupies a strategic position in this area. At the same time, the offensive of the NM of the Republics of Donbass from Yampol and Liman will put the Ukrainian garrison in Slavyansk in an extremely uncomfortable position.