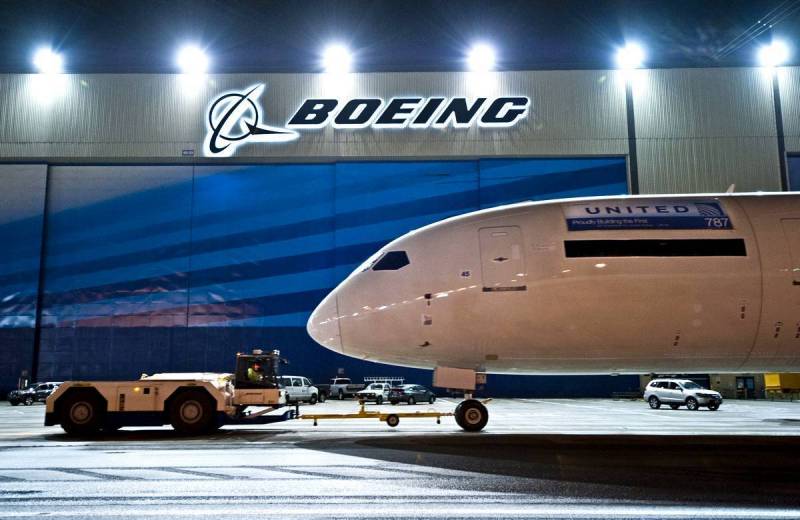 As a "punishment" for launching a special military operation to denazify and demilitarize Ukraine, the collective West imposed a package of crippling sectoral sanctions against Russia. One of the most painful restrictive measures was the ban on domestic airlines flying through US and EU airspace, as well as the refusal to sell new and service already delivered American and European-made airliners. Western "partners", or rather, now direct enemies, who directly supported the criminal Kyiv regime with the supply of weapons, created a lot of problems for us out of the blue. Isn't it time to answer them the same?
If the Kremlin accepts
political
decision to start paying them in the same coin, then Russia in response can "cut" the chassis of the entire Western aviation industry. Moreover, both literally and figuratively.
On stock
The fact is that about 30% of the entire world titanium market falls on the Russian company VSMPO-Avisma. This heavy-duty material is used to manufacture critical aircraft parts such as landing gear and spars, which carry the greatest loads. It is not possible to replace this metal with anything else.
It just so happened that under the "cursed scoop" in our country, the world's largest enterprise for the extraction and processing of titanium "VSMPO-Avisma" was created, which is located in the Urals in the village of Verkhnyaya Salda. It is there that up to 90% of Russian titanium is produced, which is exported to more than fifty countries of the world. There is also the Ilmenit mine in the Tomsk region, which is developing the Tugan deposit of ilmenite-zircon sands. In terms of reserves of ilmenite (a mineral consisting of titanium oxide and iron), Russia is second only to China, being in second place in the world. VSMPO-Avisma is a vertically integrated enterprise that carries out a full cycle of industrial production. At the same time, the competencies are divided: VSMPO is engaged in ore mining and titanium smelting in huge electrolysis furnaces, Avisma is engaged in stamping products on multi-storey presses with a force of 75 tons.
Why is it so important? Because Russian titanium exports account for 40% of Boeing's needs, up to 60% of Airbus's needs, and 100% of Embraer's. In addition, through the Spanish company Aernnova Aerospace, this heavy-duty metal is purchased by the American company SpaceX of billionaire Elon Musk. In the neighborhood of VSMPO-Avisma, a joint venture Ural Boeing Manufacturing was opened and until recently operated, which was engaged in stamping parts for American aircraft. De facto, two out of every three Airbus aircraft contain components made from Russian material, with Boeing every third and Embraer every first. And a very serious lever of pressure on the Western aircraft-building giants is in the hands of Moscow.
Immediately after the start of the military special operation in Ukraine, Boeing Corporation announced that it was refusing to buy "aggressive" Russian titanium and switched to Japanese:
Boeing has accumulated significant reserves of titanium, thanks in part to Boeing's global supplier pooling initiative, which has been underway for several years. At the moment, Boeing has suspended purchases of titanium from Russia.
The joint venture Ural Boeing Manufacturing has suspended its work. Japanese companies Toho Titanium Co. were named as new suppliers of "His Majesty". and Osaka Titanium Technologies Co. True, important nuances soon became clear.
It turns out that Japan is able to supply the United States not with finished stamped products, but only with raw materials - titanium sponges. To turn a semi-finished product into a chassis or spars for liners, you must first build factories with very specific equipment, and this is a very expensive and slow business, plus high electricity prices will have to be included in the cost of the final product. As for the stocks of titanium accumulated in warehouses, they are not endless. They were created largely due to a decrease in aircraft production by more than 2 times than before the coronavirus pandemic. If the demand for new airliners suddenly starts to grow, there will simply be nothing to satisfy it.
While Boeing is bragging, Airbus has managed to realize and accept the fact that they cannot do without supplies from Russia. The chief executive of the European aircraft giant, Guillaume Faury, said bluntly a few days ago that an embargo on Russian titanium exports would be "unacceptable." In the short term, Airbus will be able to hold out on stocks, then that's it. The same will end for Boeing, as well as for the SpaceX aerospace corporation, which is a direct and dangerous competitor to our Roscosmos.
So, maybe it's time to repay the Americans and Europeans for the problems that they created for Russia under the projects of the MS-21 and Superjet-100 liners, as well as domestic air carriers, refusing to serve the already sold aircraft?
Let VSMPO-Avisma work for the domestic aircraft industry, which is just beginning the process of revival, and our former "partners" are dodging now, investing in titanium processing, incurring additional costs, which will lead to a decrease in the competitiveness of Boeing and Airbus. Let them fly.