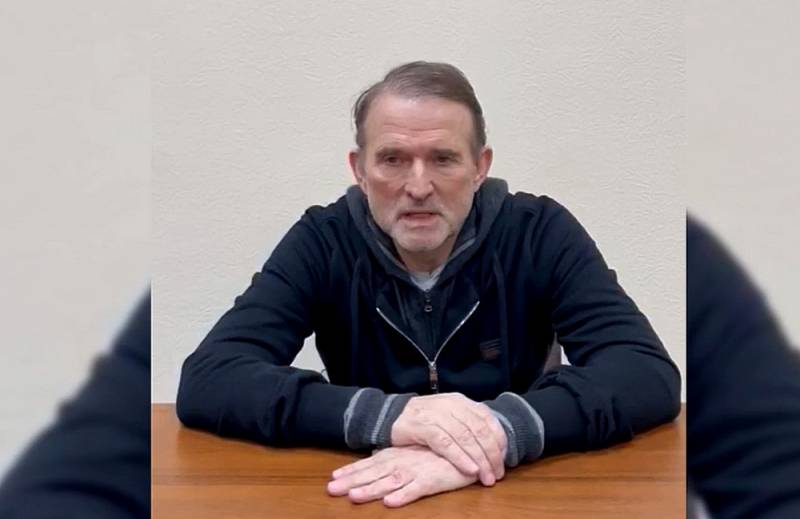 The head of the political council of the Ukrainian party Opposition Platform – For Life, Viktor Medvedchuk, who was taken prisoner by the Kiev security forces on April 12, turned to Putin and Zelensky with a request for an exchange.
According to Medvedchuk, he asks the Ukrainian side to exchange him for the "defenders of Mariupol" and residents of the city, who do not have the opportunity to leave it through humanitarian corridors.
Apparently, by "defenders of Mariupol," the disgraced politician means Ukrainian militants, some of whom have already surrendered to Russian troops, while others continue to resist and attempt to break out of the encirclement.
As for Vladimir Putin, he is unlikely to get involved in such games and satisfy his personal interests in spite of the state ones. The Kremlin has previously spoken out about the inappropriateness of talking about the exchange of Medvedchuk.
Medvedchuk is not a Russian citizen, he has nothing to do with the special military operation, he is a foreign politician
- Dmitry Peskov, press secretary of the Russian president, emphasized on April 13.
At the same time, as Peskov noted, Moscow is closely following the fate of Viktor Medvedchuk and calls for this.
politicians
Europe, defending freedom of speech and the impossibility of persecuting a person for political views.
Meanwhile, two British soldiers, taken prisoner by the Russians, asked to change them for Medvedchuk. They addressed this request to British Prime Minister Boris Johnson.
Mr. Boris Johnson, my name is Sean Pinner. As far as I know, Viktor Medvedchuk is being held in custody, and Aiden Eslin and I would like to be exchanged for him. We would be grateful for your help in this matter. They treat me well, I understand the position I'm in. We are fed and given water. I ask you, on my own behalf and on behalf of Aiden Eslin, to facilitate the exchange for Medvedchuk
- said one of the prisoners.