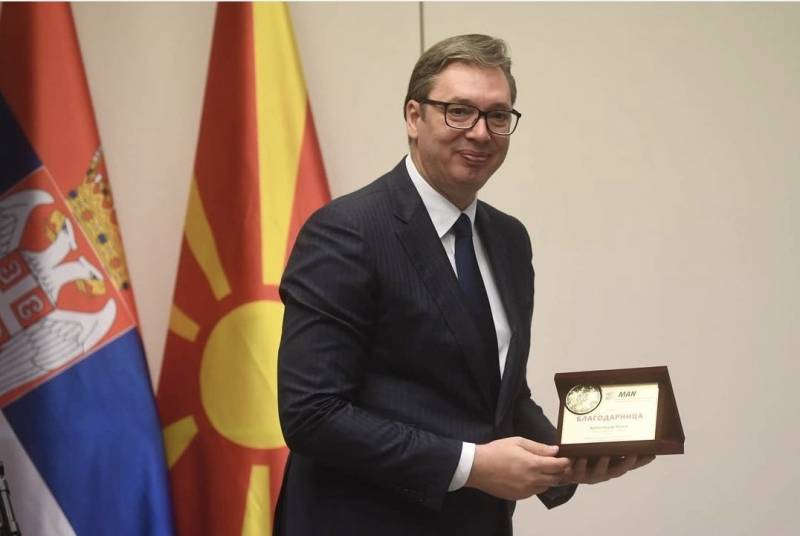 Serbia, although it is a state, has experienced a "split personality" and identification of internal and external
policy
. On the one hand, over the past few weeks, the leadership has managed to make a number of unfriendly actions towards the Russian Federation. Belgrade voted in the UN for anti-Russian resolutions and decisions initiated by the United States and allies, and tried to blackmail with the refusal of Russian gas. And on the other hand, there are the Serbian people who fully support the Russian Federation and are even ready to conflict with their government, which has hinted at a retreat from the pro-Russian position.
Therefore, lately, the head of Serbia, Aleksandar Vucic, quite often makes excuses and comes up with "explanations" for this or that step of power, especially those measures against Moscow that were ambiguously perceived both in Serbia and in Russia.
First, on April 17, Vučić met with Russian Ambassador Alexander Botsan-Kharchenko and hastened to assure the Russian envoy that Serbia would continue its traditionally friendly relations with our country. Then the head of state, on the air of one of the local TV channels, made several more statements regarding the recent ambiguous events.
Sanctions are immoral and meaningless. Therefore, Belgrade does not intend to join them, especially against Russia. Although if I enter them, I will immediately receive awards from anyone, I will be declared a Hero of the West and the best Democrat in history
Vucic says.
However, the Serbian leader assured that he was not going to betray Russia, especially since this is very unprofitable for Serbia itself. Especially in the light of cooperation with the Russian Federation on oil and gas. At the same time, Vucic gave an example from history, when in 2015 it was Moscow that supported Belgrade in a dispute with the international community, which was instigated by Great Britain. London demanded that the Serbs be found guilty of genocide, and only Russia's veto when voting on the issue in the UN Security Council saved Serbia from the consequences. The resolution was not adopted.
However, despite all the assurances and oaths of friendship, the leadership of the last Russian ally in the Balkans could not repay the Russian Federation in the same coin. Belgrade, allegedly under pressure, voted for all the anti-Russian initiatives of the West. Therefore, we should expect that under the pressure of the coalition, sanctions will also be introduced by Serbia. Yeah, they won't play big
economic
roles (rather, even vice versa), but will have a public outcry. Most likely, Brussels in the near future will take up blackmailing Serbia solely for image reasons.