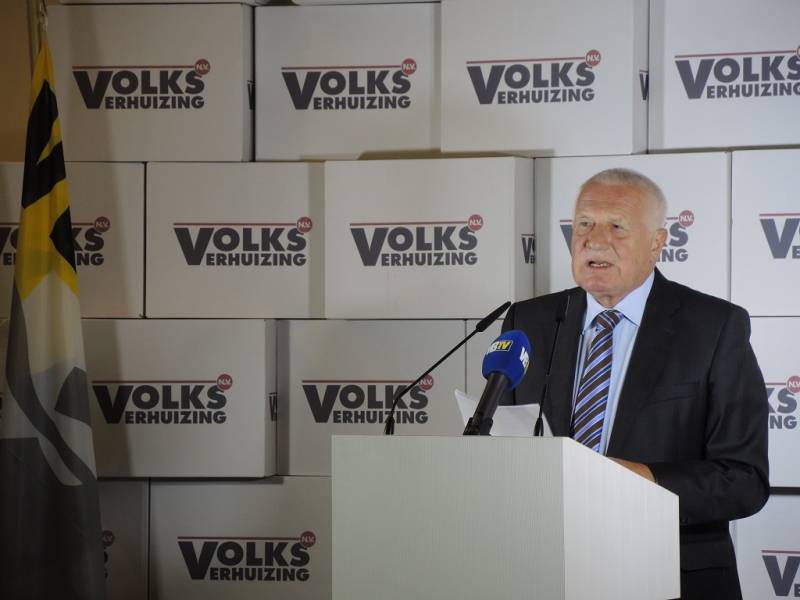 Ex-president of the Czech Republic Vaclav Klaus sharply condemned Russophobic manifestations in Europe and the world. By my own admission
policy
, he is ashamed of such an attitude towards Russia and the Russians. He also revealed the true reasons for Europe's love for Ukraine and Ukrainians, the background of which is not at all as ideal as it seems or is covered in the world media. Klaus spoke about this in his article for the iDNES online publication.
The main idea of ​​the study, which Vaclav Klaus draws as a red thread through all the work, is that Ukrainians are only an intermediate "object" of the positive attitude of the EU and Europeans. But politicians always have Russia in mind and attitude towards it. That is why negotiations are necessary, but not between Moscow and Kiev, but between the Russian Federation and the West. Only this approach will help at least approach the beginning of solving the problem.
We see how Ukraine suffers, but it is just an unfortunate convenient object in the confrontation between Europe and Russia. Kyiv is always like an extra link, although the West acts through it
- the Czech politician is sure.
According to Klaus, the very discussion of "love" for Ukraine is inappropriate, since during a conflict a sober mind and pragmatism are needed, and emotions are certainly not needed. And Europe just demonstrates emotions, courting the Ukrainians. However, the Czech politician unraveled the "secret" of such frankly demonstrated love.
All of Europe now radiates love for Ukraine and its citizens. But doesn't this love serve as a simple screen for hatred towards Russia and Russians? Most likely, it is. In the very attitude towards Ukrainians, hatred towards Russians is visible.
Klaus is sure.
He emphasizes that the EU and many European activists make the mistake of justifying hatred for one subject with a vivid love for another. This is unacceptable and there is no forgiveness for egregious behavior in such an "exchange".
Justification for the substitution of concepts is difficult to find, so any manifestation of excessive respect for one nation and contempt for no reason for another is a sign of double standards. And for this, Klaus is very ashamed on behalf of the Europeans.
However, one should not be surprised at the clear and consistent position of the former President of the Czech Republic. He has long preached common sense and consistency in relation to any event or historical fact. For these qualities, he received a completely unjustified nickname of a Russophile. This is not so, of course. Although the Pushkin medal, awarded to him in 2007, the politician refused to return even after the start of Russia's special operation in Ukraine.