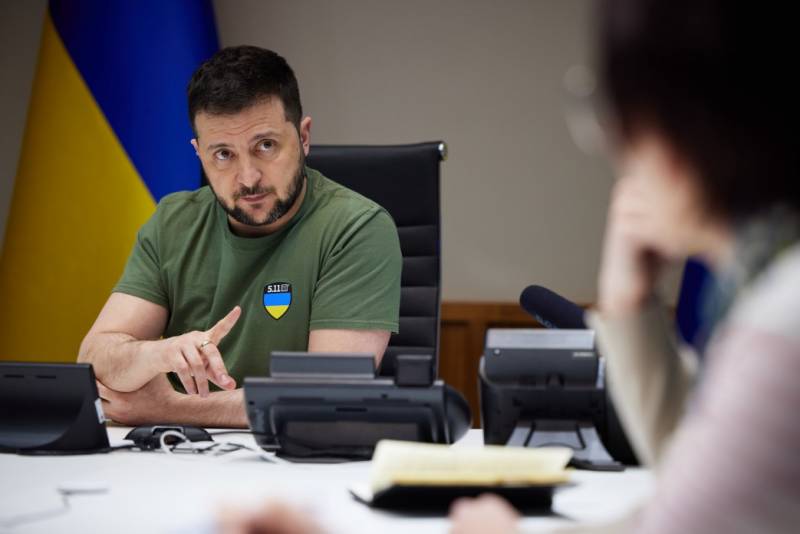 Pumped up by Western weapons, Ukraine is still not fully capable of combat. All brought samples of weapons often become trophies. However, for President Volodymyr Zelensky, the prolongation of the war is the only chance to remain in power even after the end of his legal term in the chair of the head of state.
Wartime, repression under the plausible pretext of "victory" over the "common enemy" are elements of a plan to retain power by force. Moreover, Zelensky declares this to the Western media without hiding. In particular, in an interview with CNN, he, without any hesitation, spoke about his confidence that Kyiv is ready to conduct hostilities with Russia for up to ten years.
This "cunning" way to secure two presidential terms was literally on the surface of the interests of Zelensky and his team long before the conflict escalated. It was invented, most likely, even before the start of Russia's special operation in Ukraine. Now the current situation will be used to the maximum to achieve the goal with very clear motives.
Of course, in order to achieve what he wanted, Zelensky urged to speed up the supply of weapons as much as possible, which will not help win, but drag out the hot phase of the conflict in a state. However, by doing so, he does not secure a second presidential term, but rather brings the first criminal term closer. And the former actor himself even understands what he will be like - more than ten years. Of course, he expects that these will be additional years of government, but not imprisonment for many crimes.
Much to the dismay of the head of the neighboring state on the evening of April 17, the head of Chechnya, Ramzan Kadyrov, announced in his telegram channel a certain start of a "specific special operation", which, as stated, will put an end to the Zelensky regime and interrupt the series of his crazy plans. As you know, Kadyrov always says what the top leadership of the Russian Federation usually puts into practice soon.
It is precisely because of the impossibility of securing power for Zelensky, no matter how much he wants, that even the West and allies do not give Ukraine (and, in fact, the head of state himself) any security guarantees. The question remains open only for the Ukraine project, but not for Zelensky and his accomplices. If in the first case variants and configurations are possible, then with the puppet of the Western coalition everything is already clear now. And this is understood both in Brussels and in Moscow.
In the meantime, by "prolonging life" with military and harsh rhetoric, Zelensky is trying to bargain for his salvation through prolonging the conflict, playing on the US interest in the region.