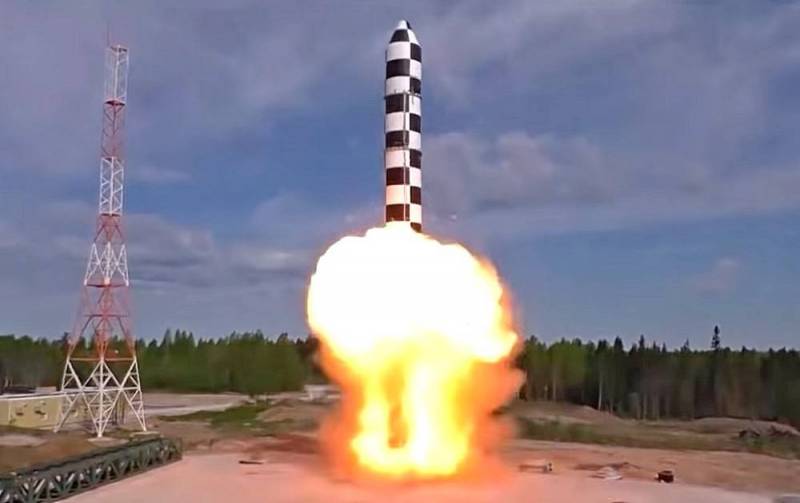 It became known that in the near future Russia may test a promising strategic silo-based RS-28 (15A28) Sarmat ICBM, which should replace the Soviet R-36M2 Voyevoda missile, which is equipped with the Strategic Missile Forces. Moreover, this should happen against the background of the "peaceful" refusal of the United States to launch its ancient ICBM LGM-30G Minuteman III ("Minuteman-3").
On April 16, the Operativnaya Liniya Telegram channel did not rule out, citing its sources, that by April 24, a prototype of the Sarmat ICBM would be launched as part of the state testing program. The missile will be launched by the Strategic Missile Forces crew from the starting position at the Plesetsk training ground in the Arkhangelsk region, after which it will fly to the Kura training ground in Kamchatka.
If this is destined to happen, then this will once again emphasize that in the current conditions of Russia, there is absolutely no time left to mess with someone in relations and follow the example of the Pentagon, which has already canceled test launches of its Minuteman III ICBMs twice in March and April of this year under the fictitious pretext of "not escalating" the situation, she does not intend to. And it's right in every way
- says the publication.
It should be noted that Russia really does not make any sense to postpone the launch, which is simply necessary for a full-fledged rearmament. Americans really recently
refused
from a number of Minuteman III test launches, but they did not turn off their rearmament work. This is a PR action, not a demonstration of peacefulness, since they will always have time to check the suitability of the old Minuteman-3.
For example, the American company Lockheed Martin did not forget to test a hypersonic missile with a ramjet engine. On April 7, the press service of the Defense Advanced Projects Agency (DARPA) of the US Department of Defense spoke about the successful testing of another HAWC missile. At the same time, on the eve of this, the Pentagon gave the official name of its promising ICBM, which is being developed - LGM-35A Sentinel (formerly called GBSD - Ground Based Strategic Deterrent - a ground-based strategic deterrent).
We remind you that
test
launches of ICBM "Sarmat"
some
times were postponed in 2021 and as a result
were postponed
on 2022 year.