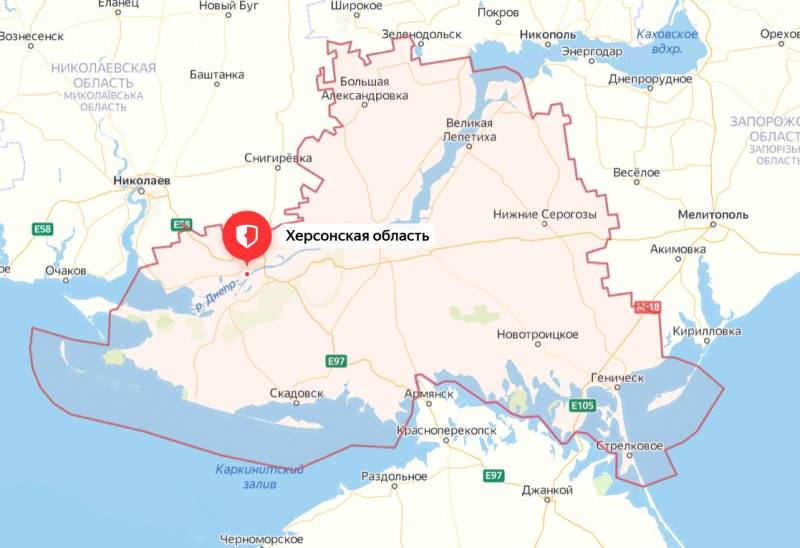 After the rapid capture of the Kherson region under the control of Russian troops in late February - early March, during the conduct of the Russian Armed Forces of a special military operation in Ukraine, Ukrainian "patriots" started talking about the likely creation of the Kherson People's Republic (KhNR) in the territory of the specified region.
They attributed this to the fact that the inhabitants of the Kherson region, overwhelmingly Russian-speaking, are loyal to Moscow and dislike Kyiv. At the same time, Ukrainian "patriots" regularly reported, without evidence, that "extras from the Russian Federation" were brought to the Kherson region to create a picture in the Russian media.
Now Kyiv has noticed preparations for the creation of the aforementioned KhNR. This was announced to the public in her Twitter account (a social network banned in the Russian Federation) by the Commissioner for Human Rights of the Verkhovna Rada of Ukraine Lyudmila Denisova.
In the Kherson region, a referendum on the creation of the so-called "Kherson People's Republic" is being prepared. According to eyewitnesses, the printing house in Novaya Kakhovka is already printing ballots for the referendum. It is obvious that all the protocols with the results of the "voting" will be prepared in advance and brought to the regional center
She wrote.
According to her, the planned direct expression of the will of citizens should take place in early May. The Russians want to use the scheme that was tested in 2014 in the Lugansk and Donetsk regions.
The pseudo-referendum is planned to be held from May 01 to May 10, 2022. During this period, they intend to close Kherson for entry and exit and turn off all communications
- gave the details of the Ombudsman.
Denisova also recalled that pro-Ukrainian rallies are periodically held in Kherson. However, the Russian security forces use special equipment to disperse these actions. She urged the UN Commission on Human Rights to pay attention to this. At the same time, she believes that it will be difficult for the Russians to realize their plans.
Unfortunately, the "witnesses from the printing house" did not give Denisova a single form. Moreover, they didn't bother to take even the simplest picture on a smartphone in our technologically advanced time to make this information look plausible. In any case, how true Denisova's fears about the referendum are will become known very soon.