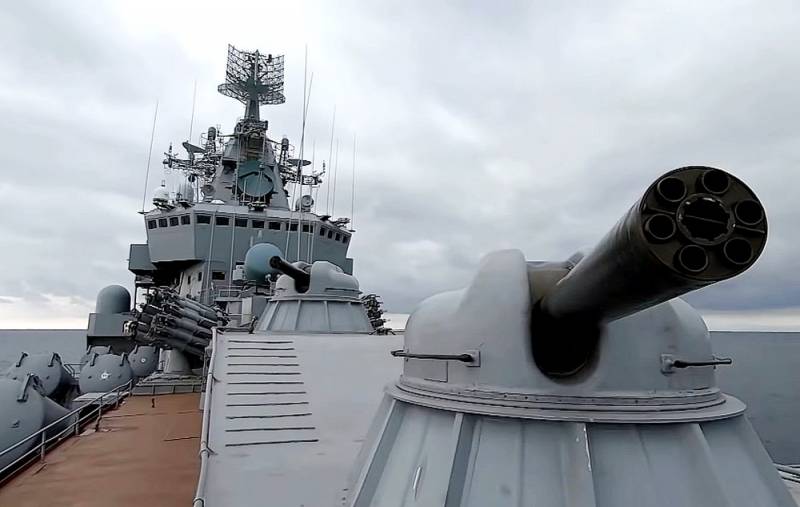 Not a single topic causes such an unhealthy excitement in Russia as the question of the need or uselessness of aircraft carriers for the Russian Navy. The level of opponents of their construction has dropped to such a bar that they are now in all seriousness
call upon
"hit in the face" of those who arguedly oppose them. What is most striking is that this happens after the death of the Moskva missile cruiser. Now these strange people are trying to use the tragedy of the Russian fleet in order to completely stop building large surface ships, supposedly unnecessary, limiting themselves to "trifles", like corvettes and frigates. Well, then get a "two" in response.
In the history of the participation of the Russian Navy in a special military operation to demilitarize and denazify Ukraine, two stages can be distinguished. At the first, the Black Sea Fleet showed itself exclusively in a favorable light. Literally from the very first hours of the start of active hostilities, sea-based Caliber cruise missiles began to destroy the enemy's military infrastructure with the highest accuracy. The Ukrainian Navy immediately ceased to exist, the strategically important Snake Island was taken under control. The threat of an amphibious operation in the Odessa area fettered significant forces of the Armed Forces of Ukraine there.
It suddenly became clear that even for a "great land power" to have its own navy is not shameful, and, at times, even useful. Everything came in handy: a few frigates, corvettes, and small rocket ships. But, unfortunately, the idyll could not continue indefinitely, and as a result, a "response" arrived, both in the literal and figurative sense.
First, in the port of Berdyansk, under unclear circumstances, it caught fire and then went to the bottom of the Saratov large landing ship, and 2 more large landing ships were damaged, but were able to cope with the fire and survived. Then, under unclear circumstances, the flagship of the Black Sea Fleet of the Russian Federation, the missile cruiser Moskva, died. Officially, only a fire and the subsequent detonation of ammunition on board are reported, as a result of which it subsequently sank during a storm while towing it to Sevastopol.
We do not know what actually happened there, therefore, in further reasoning, we will try to simulate several situations that could happen in some parallel universe. Therefore, we kindly ask you not to take what is written too close to your heart.
Somewhere in an alternate universe...
Let's imagine that somewhere in the parallel world, if there are any, there is some "great land power", which we will call the letter "A". It is opposed by the military bloc "B", which is waging a so-called "proxy" war against "A" on the territory of a third country. Let's call it "G".
With its provocations, block B forced country A to launch a special operation on territory D, while using its small navy. (We remember that this is a "great land power"?). Despite the information that the enemy had anti-ship missiles, the admirals sent the flagship of the fleet "N" to carry out a naval blockade of the strategically important port "G" and serve as a distant frontier of air defense. At the same time, it was ignored that this cruiser did not have weapons to conduct an effective battle against land, and it was equipped with an outdated air defense radar.
And then what happened was what was supposed to happen. Block "B" staged a hunt for the enemy's flagship in order to defiantly destroy it with the hands of country "G". He could do this in several ways.
At first
Having, thanks to the developed reconnaissance network, a complete picture of what is happening, "B" could provide data for target designation of anti-ship missiles of the military of country "G" for a strike from the coast.
Secondly
, the ship could be attacked by ground-based anti-ship missiles manufactured by block "B", which "G" could get through the open border via the railway network, which "A" for some reason is in no hurry to destroy, interrupting the supply.
Thirdly
, the cruiser could be destroyed by air-launched anti-ship missiles from several aircraft of the Air Force "G", which could approach it through the airspace of the neighboring country "R", which is part of block "B".
Be that as it may, in a parallel Universe, the cruiser "N" died, probably with human casualties among the crew, which is inevitable as a result of the detonation of its ammunition. The fleet of country "A" ingloriously lost one of its most powerful and already few ships of the 1st rank, the flagship of the fleet, having received a heavy image blow. Could this have been avoided?
Everything is possible in this alternate universe. Perhaps, if the only heavy aircraft-carrying cruiser was in the fleet of country "A", things would have turned out quite differently. Let it be old and inferior, but its use would allow a military operation to be carried out in a different way.
In our universe, rabid critics of aircraft carriers for some reason forget that this is just a huge floating airfield, the practical value of which lies precisely in its air wing. On the deck of both the TAVKR and the strike heavy nuclear aircraft carrier, fighters, attack aircraft, helicopters, convertiplanes and UAVs can be placed in significant quantities. And the presence of its own carrier-based aviation gives the fleet a lot of additional opportunities.
So, for example, for a naval blockade of that island and the port of country "G", it was absolutely not necessary to turn around in the zone of destruction of an anti-ship missile, begging for a volley from the DBK to the side. It is quite enough to launch reconnaissance and reconnaissance-strike drones in shifts, continuously monitoring the situation. If some enemy ship would try to violate the blockade, it is enough to raise fighters or attack helicopters from the deck to intercept, according to the situation. There is absolutely no need to drive UAVs and aircraft from an "unsinkable aircraft carrier" on a certain peninsula 300 kilometers away, stupidly burning tons of fuel. The decision to raise carrier-based aircraft should be made by the captain of the ship himself, based on the operational situation. In other words, a naval blockade with an aircraft carrier, heavy or light, is much more effective and safer than without it. Which, in fact, has been confirmed by practice.
Regarding the safety and combat stability of the fleet, this is a special conversation. As we have already said, an aircraft carrier is just a platform for carrier-based aviation, in particular, for AWACS aircraft and helicopters. Their task is continuous aerial reconnaissance of everything that happens on the sea, land and in the sky, as well as the issuance of data for target designation of cruise and anti-aircraft missiles and combat control. Unfortunately, country "A" does not have its own carrier-based AWACS aircraft on the only aircraft-carrying cruiser, because it, as they say, "does not need aircraft carriers", but there are AWACS helicopters. Let's try to simulate a couple of situations using them.
Let's say the enemy rolls up coastal missile systems to strike at the ships of country "A". However, reconnaissance UAVs launched from the deck of the TAVKR are constantly circling in the sky, as well as AWACS helicopters in shifts. They quickly fix this and either send fighters / attack helicopters to preventively destroy the DBK, or they see a volley in a timely manner and direct the air defense system of their ships to shoot down missiles. Similarly, AWACS aircraft / helicopters will not be superfluous in the event of an air attack from the territory of the country "P". Being in the sky, they will see in advance the approaching fighters of a potential enemy and will allow them to quickly raise carrier-based aircraft to intercept them. In a good way, they will not allow foreign aircraft to even approach the effective attack distance, and if it does happen, they will help to intercept anti-ship missiles and destroy the aggressor.
In other words, the presence of an aircraft carrier with a harmonious air wing significantly expands the capabilities of the ship grouping in which it operates. At the same time, this "huge useless vessel" provides effective aerial reconnaissance, target designation for cruise and anti-aircraft missiles, as well as air defense, simply not allowing enemy aircraft to shoot their ships with impunity.
In our realities
But who cares about all this? Aircraft carriers are anathema in Russia. The insane "anti-aircraft sect" foaming at the mouth proves their uselessness, demanding the construction of small "rocket gunboats" in the form of frigates and corvettes. Well, let's...
Let's continue pumping defense budget money into the construction of a small-tonnage fleet, which has a relatively weak sea-based air defense system, which is suitable only for rocket attacks on an enemy that has nothing to respond to. When does he have a response? What happens if a Russian naval strike group meets with an American aircraft carrier strike group? From some "Harry Truman" a deck link will rise and, without entering the zone of our air defense, will fire up to a hundred missiles, anti-ship and anti-radar, in one salvo. And then another volley. And more, if needed. What do you think what will be left of our fleet after that, which will die ingloriously, not even being able to fire a volley in response, since we do not have our own carrier-based AWACS aircraft for target designation due to the lack of heavy aircraft carriers, and the last TAVKR is under permanent repair?
Does the Russian Navy need aircraft carriers? And what do you think? How much more blood must be shed by Russian sailors for all these people to stop hyping this difficult topic?
By the way, in Nikolaev, under which Russian troops are now stationed, there are serious shipbuilding capacities, and in the future it would be possible to restore the Black Sea Shipyard, where Soviet aircraft-carrying cruisers were launched.