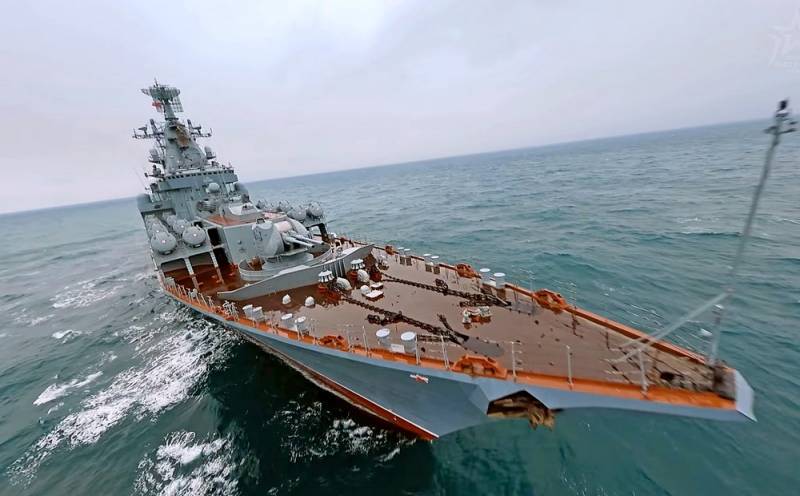 An American Boeing P-8 Poseidon aircraft, also intended for naval reconnaissance, was seen not far from the Moskva missile cruiser on the day of the incident that caused a fire and evacuation of the crew from the ship. Users of the Flightradar resource, which allows real-time tracking of aircraft movements, noticed suspicious activity of the Poseidon anti-submarine reconnaissance aircraft.
This aircraft is predominantly in service with the United States and is equipped with search and reconnaissance systems designed to determine the location of surface ships, as well as missile weapons.
It was the Poseidon on April 13.04.2022, 19, at about 00:70, that was XNUMX kilometers from the Moskva missile cruiser, flying in the airspace of Romania. It is impossible to accurately determine the involvement of the aircraft in the damage to the ship of the Black Sea Fleet.
Recall that on the evening of April 13.04.2022, XNUMX, there were reports in the Ukrainian media that Neptune missiles hit the Moskva missile cruiser participating in a special military operation on the territory of the country. Various sources spoke of a flood or an explosion that caused the death of the ship. However, this information has not been confirmed.
Later, the Ministry of Defense of the Russian Federation issued an official comment on this matter, confirming the explosion on the ship due to the detonation of ammunition and the evacuation of the crew. According to a defense ministry spokesman, the ship is afloat and will be towed to the port to investigate the causes and circumstances of the incident.
The fact of the presence of an American intelligence officer in the air in this case does not confirm or refute anything. Planes and UAVs of NATO countries are showing increased interest in the zone of the special military operation, including the Black Sea, where the grouping of ships of the Russian Navy is located, blocking Ukrainian ports.