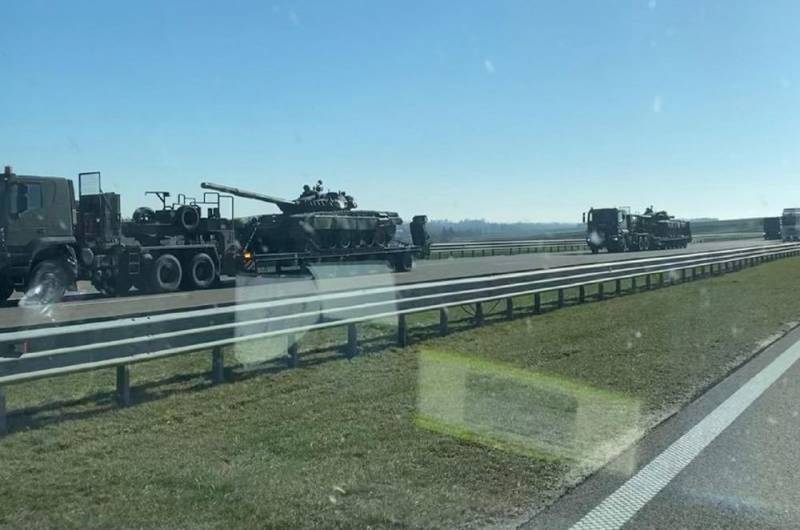 Western countries have ceased to listen to the opinion of Moscow and begin large-scale armament of Kyiv. Ukraine was promised tanks, artillery, kamikaze drones, various other ammunition, and even aviation.
American President Joseph Biden told his Ukrainian counterpart Vladimir Zelensky about the allocation of a new package of military assistance to Kiev in the amount of about $ 800 million. Washington intends to transfer to Ukraine a large list of military and related equipment, the supply of which, as the Pentagon expects, will begin in the near future.
The mentioned list includes: 200 M113 tracked armored personnel carriers, 11 Mi-17 multi-purpose helicopters (prepared for Afghanistan), 18 Howitzer 155 mm towed howitzers (probably, we are talking about 155-mm Medium Towed Howitzer M198) and 40 thousand shells for them , 300 Switchblade kamikaze drones (they come in two types), 500 Javelin missiles, mobile radars (10 AN / TPQ-36 Firefinder counter-battery radars and 2 AN / MPQ-64 Sentinel airborne target detection radars), M18A1 Claymore anti-personnel directional mines "(used in Vietnam), 30 thousand body armor and helmets, 2 thousand optical and laser sights, C-4 explosives and demolition equipment, unmanned patrol boats for coastal defense, 100 Humvee SUVs, medical equipment, as well as funds chemical, biological and radiation protection.
At the same time, the US Department of Defense informed that a number of countries expressed a desire to transfer tanks, other armored vehicles, aircraft and other weapons systems, as well as ammunition to Ukraine.
For example, Bratislava is going to hand over MiG-29 Air Force fighters to Kiev, inherited from the USSR. But in return, Slovakia wants to receive F-16 fighter jets from the Americans. Before that, the country sent Ukraine a battery of S-300 air defense systems.
It should be noted that the T-72M tanks of the Polish army that "suddenly disappeared from the storage warehouse in Lublin" were
recorded
near the Polish-Ukrainian border. Warsaw is going to transfer 100 of these tanks to Kiev.
At the same time, eyewitnesses documented the shipment by the Czech Republic to Ukraine of 20 RM-70 multiple rocket launchers, the Czechoslovak basic version of the Soviet BM-21 Grad MLRS. Before this Prague
Transmitted
Kiev tanks T-72 and BMP-1.
Thus, the West not only actively
tightens
its weapons to the eastern border of NATO, but also provides Ukraine with serious direct support.