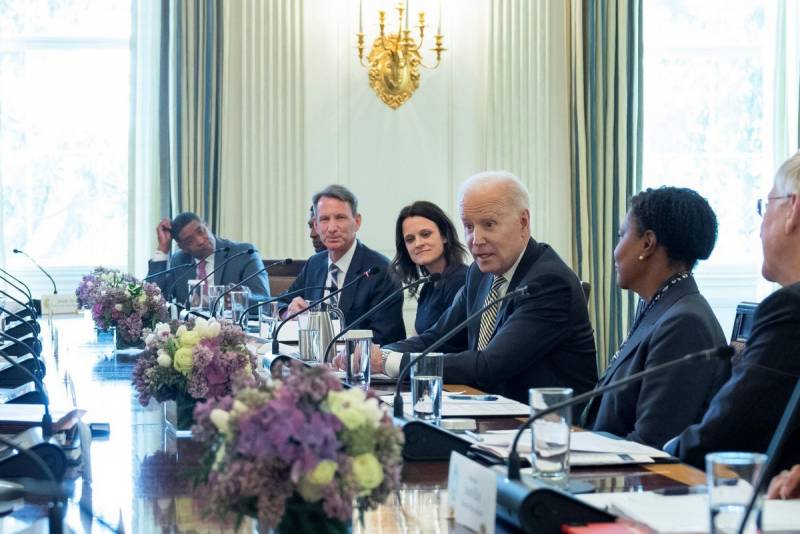 Due to the poor state of physical and mental health of US President Joseph Biden, the White House press service has actually turned into a sign language interpreter. The function of announcing events and voicing the results of closed negotiations has been replaced with an interpretive, justifying, and simply apologetic one. There are more and more tactless insults and reservations in Biden's speech, so the press service decided once and for all to put an end to the endless questions of journalists about whether the statements of the head of state are a legally significant fact or are impromptu acting.
Representatives of the Western media joke that for everything that the elderly Biden says, there is a "footnote" with a lengthy explanatory commentary. Be that as it may, but on April 13, White House Press Secretary Jen Psaki again had to blush for his boss, who the day before threw the word "genocide" the maximum number of times.
Even the head of France, Emmanuel Macron, refrained from such a judgment regarding the events in Ukraine, calling the Russians and Ukrainians brotherly peoples. But for Biden, such simple and tactful methods of behavior are apparently alien. Well, if this happens only because of age, and not the mindset or character.
But in any case, the White House needed a universal formula to justify all Biden's faux pas and insults to Russia and President Vladimir Putin. And she was invented.
As you know, when running for president, Biden promised to be straightforward, and now he keeps his word. In particular, the words about the genocide in Ukraine are a vivid confirmation of this. Different leaders in the world can call all those terrible things that are happening in this country in different ways, our president speaks as he sees
- Psaki said, also referring to Macron's statements.
A detailed explanation of Biden's impromptu and reservations is necessary for a clear understanding of which of his words have real legal consequences, and which are just a game for the public, an attempt to continue the election campaign when the rating has fallen sharply. However, the way out, found by the press service of the White House, only complicated the task, because from now on, every expression and word of the head of state will be perceived as empty chatter on camera. In this case, the position and the bearer of supreme authority are depreciated. It seems that the forced presidency of Kamala Harris is getting closer.