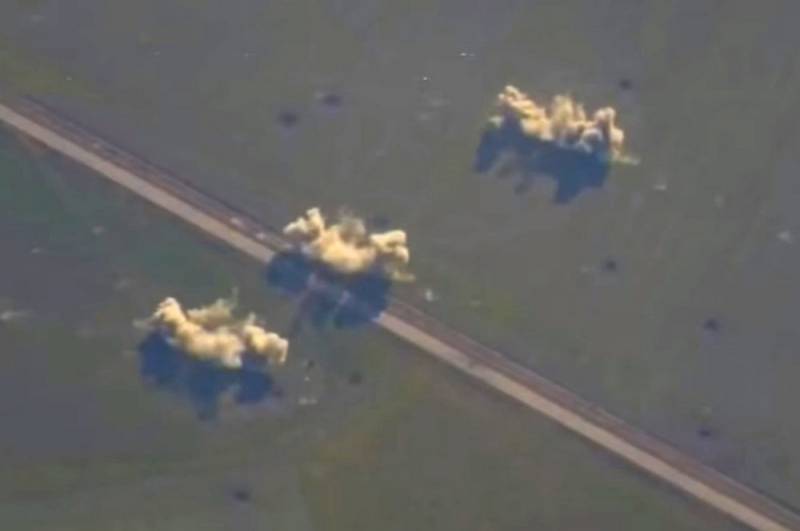 The Ministry of Defense of the Russian Federation showed footage of the destruction of the Ukrainian battery of D-20 howitzers. The blows were dealt heaps and effectively.
The number of these morally and technically obsolete howitzers in service with the Ukrainian army is small and continues to decline due to the successful actions of the Russian troops. According to the Ukrainians themselves, the D-20 is much inferior in battle to the Russian 2A65 Msta-B howitzer in terms of a number of important characteristics, including, in particular, the maximum firing range.
Meanwhile, according to the data of the Ministry of Defense on April 13, two warehouses with weapons of the Armed Forces of Ukraine were destroyed in Sadovoe and Chudnov, and two Ukrainian Mi-8 and two Mi-24 helicopters were covered by fire at the military airfield in Mirgorod.
In addition, the Aerospace Forces of the Russian Federation hit 46 Ukrainian military facilities. Over Afanasievka, Russian air defense shot down two combat drones. Rocket troops and artillery destroyed 693 targets of the Armed Forces of Ukraine.
The cleansing of Mariupol from nationalist formations and units of the Ukrainian army also continued. So, in the area of ​​​​the Ilyich Iron and Steel Works, 1026 soldiers of the Armed Forces of Ukraine from the 36th Marine Brigade voluntarily laid down their arms. Among those who surrendered were 162 officers and 47 female servicemen. All captured soldiers were sent to the city hospital for medical care.