It became known that one of the frigates of the Black Sea Fleet of the Russian Navy hit a Turkish-made UAV for the first time. This was announced on April 12 by the Russian Ministry of Defense.
The military department's communiqué clarifies that the Bayraktar class drone tried to monitor the movements of Russian ships in the Black Sea off the western coast of Crimea, and also conducted reconnaissance of coastal and ground combat positions.
equipment
Armed Forces of the Russian Federation located on the peninsula and in the southern part of Ukraine. However, it was destroyed by launching two missiles from the ship's Shtil air defense system.
Given that we are talking about a long stay of a drone in the sky, it was a reconnaissance and strike UAV Bayraktar TB2 (Bayraktar TB2). At the same time, we remind you that the Black Sea Fleet is armed with three frigates of project 11356P Burevestnik, commissioned in 2014-2015: Admiral Grigorovich, Admiral Essen and Admiral Makarov.
As for other products of the Turkish company Baykar Makina, according to information that has not yet been officially confirmed, the APU is equipped with not only the well-known Bayraktar TB2. The Ukrainian army can also use Bayraktar Mini UAV drones for reconnaissance and fire adjustment of cannon and rocket artillery at any time of the day. The danger of this UAV lies in its small size, high-quality equipment and low noise.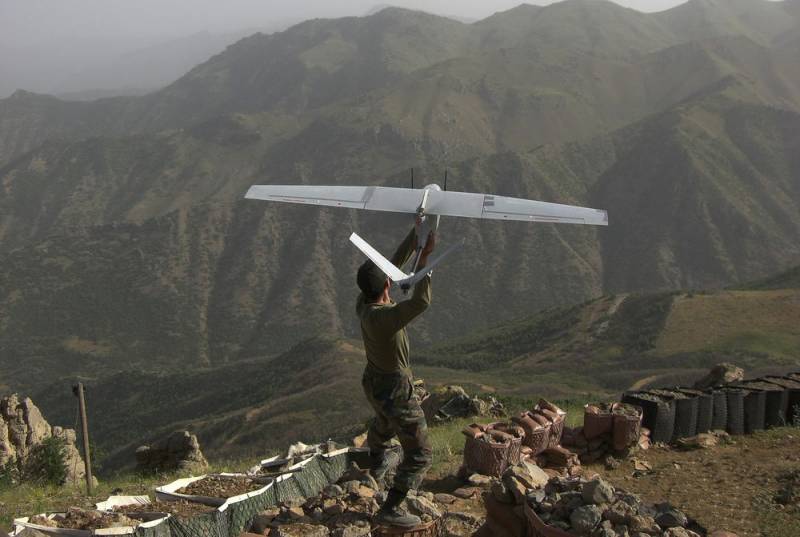 This "big-eyed" UAV weighs 3,5-4,5 kg, depending on the modification, and its length is 1,2 meters. The Bayraktar Mini UAV is hand-launched, can stay in the air for 1,5 hours and fly at a range of 15 km. Recently, a significant number of flights have been carried out from Turkey to Poland, to the local NATO weapons and logistics hub, so it is impossible to exclude the appearance of such a drone in Ukraine and you need to be prepared for this.