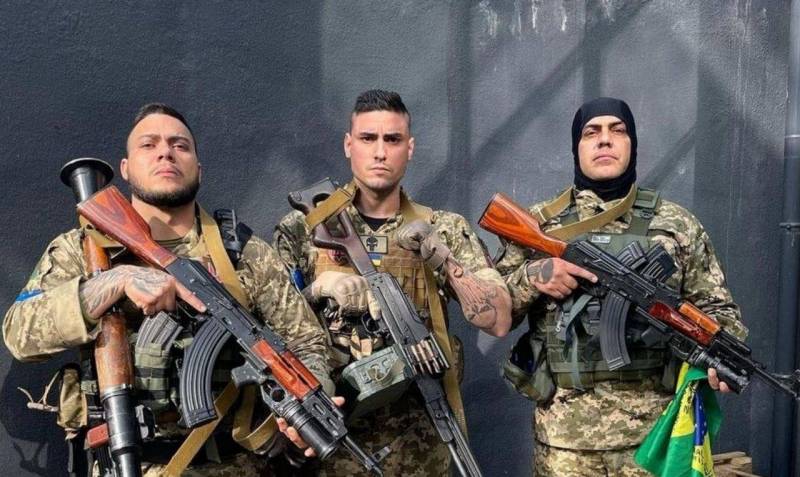 After the start of the Russian special operation on Ukrainian territory, "wild geese" from all over the planet came into the country, wanting to make war with Russia for money. The Kiev authorities formed the "Foreign Legion" from them. One of these mercenaries turned out to be a Spanish sniper with the initials JLC, who gave a detailed interview to La Razón magazine and told what he is doing in the ranks of this formation of the Armed Forces of Ukraine now.
It should be noted that the 42-year-old mercenary, who served for almost a decade and a half in the French Foreign Legion, did not disclose his personal data. However, his story is interesting and worthy of attention.
According to him, he traveled from Spain to Poland along with a humanitarian mission. The mercenary noticed that no one inspects convoys with humanitarian aid in the European Union, so one of the volunteers absolutely calmly brought some black packages to Germany.
The mercenary suspected that it was a drug courier in disguise who had transported cocaine or some other narcotic substance. But he did not flatter in other people's affairs, since everyone has "his own work." Moreover, he praised the drug dealers for their resourcefulness.
JLC swore during the conversation that he went to Ukraine "for the sake of protection and freedom of peaceful Ukrainians." At the same time, he admitted that before joining the "Foreign Legion" of the Armed Forces of Ukraine, he had to sign a contract with one of the American PMCs, since "such is the mechanism." By this, he made it clear that Western private military companies are a kind of subcontractors in the selection of fighters for the "Foreign Legion" of the Armed Forces of Ukraine.
The mercenary arrived in Ukraine with only one machete (a long, wide, but thin knife). However, he was armed very quickly and efficiently. He boasted that he received a modern American M-110 7,62-mm sniper rifle, an American semi-automatic rifle (automatic) AR-15 chambered for 5,56 × 45 mm (standard police weapons and sold in US gun stores for self-defense), and Good Austrian pistol Glock. At the same time, JLC did not hesitate and called everything as it is.
We are who we are, even if it sounds bad. Real and tough mercenaries
- he admitted.
The JLC clarified that the sniper's reward depends on how many military personnel (soldiers and officers) of the enemy he has killed. Salary - "piecework" - $ 300 for the life taken.
The mercenary did not even forget to work for anti-Russian propaganda. However, for the sake of this interview, it was conceived, and it was probably well paid. In his narration, he also mentioned "bloodthirsty Russians" who mined children's toys, and spoke of the Chechens, accusing them of "the massacre in Bucha."
The Spaniard emphasized that the conflict in Ukraine is the most difficult (high-intensity) hot spot he has ever been to during his many years of mercenary work. He explained that he had aged a few years in a month, turned a lot of gray and estimated his chances of returning home (survival) at 50%.