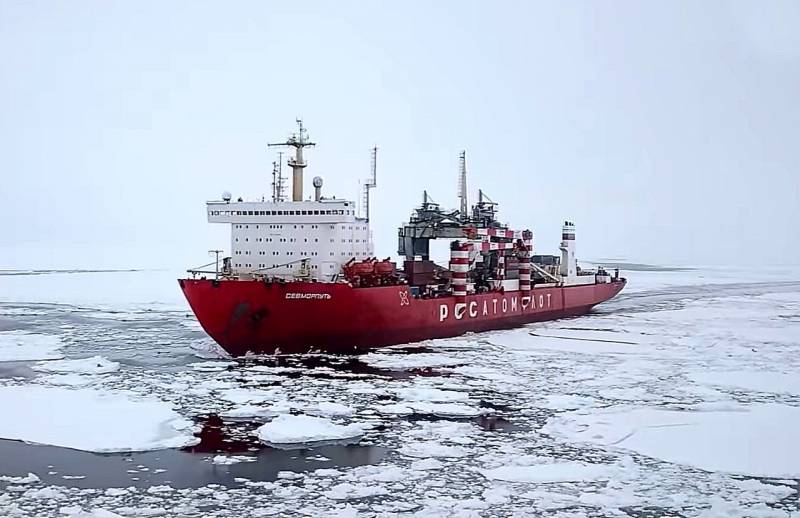 The nuclear container ship Sevmorput successfully delivered the first batch of building materials for the Vostochnaya Oil project to Taimyr the day before. It is worth noting that this ship is unique, since there is no ship of this class in any country in the world.
During the winter-spring navigation period, the container ship will have to perform two more voyages, and after all, literally 10 years ago, the ship was going to be cut into scrap metal, since it was expensive to maintain it in those days.
The world's only nuclear-powered container ship was launched in 1986. The ship operated on the lines Odessa - Vietnam - Vladivostok - North Korea. The ship could independently overcome ice up to one meter thick at a speed of up to two knots. In clear water, he developed a speed of up to 20 knots.
It is important that its nuclear power plant with a capacity of 40 thousand liters. with. does not limit cruising range. At the same time, unlike the Arktika icebreakers, this vessel can also operate in warm waters.
It would seem that such characteristics make the unique ship extremely popular. However, after the collapse of the USSR, the Sevmorput lost its job and stood at the pier for many years.
In 2013, work began on decommissioning the ship. However, at the last moment, Rosatom decided to give the unique ship a second chance.
The operating life of the reactor was extended to 150 hours, and the service life to 35 years. In addition, new equipment was installed on the ship, and in 2016 the Sevmorput made its first voyage after a long layoff.
To date, the world's only nuclear-powered container ship has traveled 302 miles and transported more than 1,5 million tons of cargo. Now, after the refusal of the leading sea carriers to work in Russia, the relevance of the Sevmorput vessel is growing more than ever.