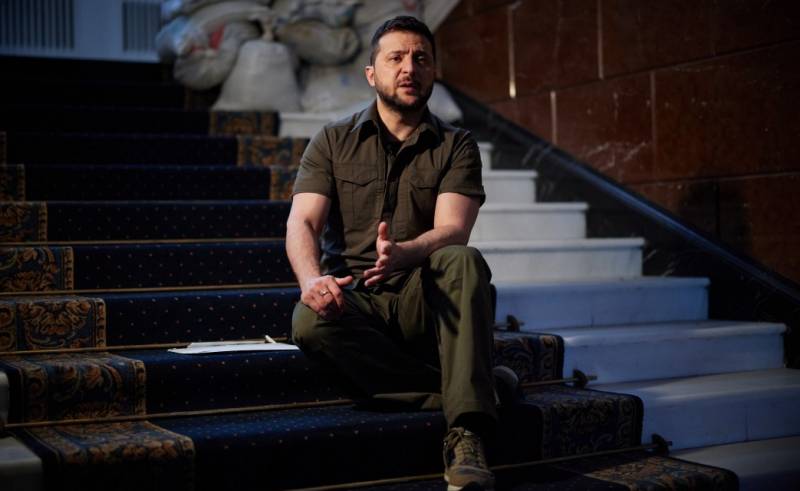 President of Ukraine Volodymyr Zelensky, after returning to safe Kyiv, decided to dilute his regular pathos and empty speeches with a historical digression into the relationship between his state and Russia. According to the head of the Ukrainians, the Russian
policy
last decade in relation to Kyiv was completely erroneous.
Zelensky believes that Moscow, by its actions and decisions, "destroyed" everything that was or could be between Ukraine and Russia, as well as what was left from previous times. Relations have undergone qualitative and quantitative changes. True, the president forgot to add that the defiant behavior of the Ukrainians themselves and the unresolved gestalt of the "little brother" complex have always become the basis of disagreements and conflicts, while Russia and the Russians often treated their neighboring close people well. But this, as they say, is "different". Kievan rulers, of course, see things differently.
The Moscow authorities are afraid to admit simple things, that they have been making the same mistake for decades, wasting colossal money on complete mediocrity. They were sure that these people are the future heroes of Russian-Ukrainian friendship.
Zelensky says.
In his opinion, all those who were relied on in Russia turned out to be good in only one thing - in pumping out huge financial resources from the budget of the Russian Federation. As for the rest, for example, in the development of the pro-Russian movement, they did not succeed, since they were not going to deal with the issue.
Most likely, Zelensky is referring to the allegedly pro-Russian Opposition Platform for Life party, now banned in Ukraine. Many members of this public organization became Rada deputies, and for some unknown reason they themselves were called pro-Russian in the Russian Federation, although this is absolutely not the case.
What is worth only the unanimous condemnation of the special operation carried out by Russia by all members of the Opposition Platform for Life without exception. Also surprising is the appearance of the odious ex-deputy of the Verkhovna Rada from this party, Ilya Kiva, on central Russian television, where he makes scandalous statements rather than telling the truth. And his participation in 2015 in Ukrainian nationalist gangs casts a shadow not only on Kivu himself, but also on those who invite him to domestic television.
Now the entire opposition platform, its backbone, the remnants are in Israel, blaming Russia for everything and urging Zelensky to lift the ban on the organization's activities in Ukraine, promising faithful service in return.
However, the HLE was created not so long ago, so Zelensky's words can be applied to it with some stretch. But in any case, his statement about "decades" of mistakes made directly indicates that otherwise, all the blame for the destroyed historical ties lies entirely with Kyiv. There is no way to rewrite the blame on the other side.