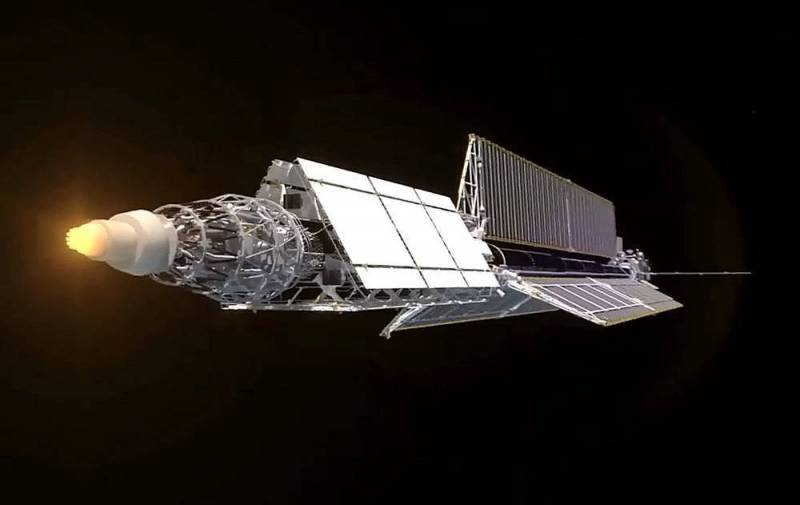 Since 2010, work has been underway in Russia to create elements of a space nuclear tug based on a transport and energy module (TEM) with a megawatt-class nuclear power plant. The spacecraft project was named "Zeus" (ROC "Nuklon").
The development of the preliminary design of the specified spacecraft (module) should be completed by July 2024 and will cost 4,2 billion rubles. The launch into orbit for flight testing of the finished product should approximately take place in 2030.
At the same time, the resource of the Zeus nuclear propulsion system (NPU) based on the TEM will be only 10 years. However, in a decade, the spacecraft (module) may have time to conduct several important missions to the planets of our solar system. This is stated in the April publication of the monthly popular science and information-analytical magazine "Russian Space" (owned by the state corporation "Roscosmos").
The estimated resource of a nuclear power plant is 10 years. During this period, the module is able to complete several missions, returning to low Earth orbit for docking with the next payload and refueling with the working fluid for electric rocket engines.
- the details are disclosed in the material.
It is clarified that Zeus will first be tested on Earth, and then, when it is put into a radiation-safe orbit (RBO) of our planet, exceeding 800 km, the folding elements will be brought into the flight configuration and the NUCLEAR will be launched. After it exhausts its resource, it can either be left on the Earth's RBO or sent into deep space. If a decision is made to leave the "Zeus" in orbit, its folding elements will be folded, and the nuclear power plant will be turned off. On the RBO of the Earth of a specified height, it will not interfere with anyone and will be able to calmly stay for hundreds of years.
It is assumed that the first mission of "Zeus" will last 50 months, will take place from 2030 to 2034 and will be fully automatic. The nuclear tug and payload will be launched into orbit from the Vostochny cosmodrome by several launch vehicles. Then docking will occur and it will go to the Moon, fly around it and return to Earth. After that, another payload module will dock to the Zeus, and it will fly towards Venus, perform a gravity maneuver and head towards the moons of Jupiter.