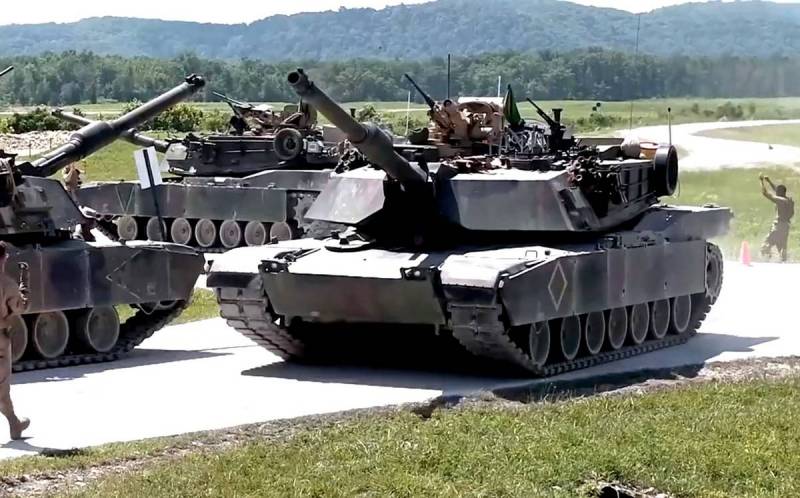 Having a superior army doesn't really matter if it can't be forced to move. At present, the infrastructure of Eastern Europe is completely unprepared for a war with the Russian Federation, writes the American publication Politico, against the backdrop of the recent EU ban on transport links with Russia since April 16.
The conflict between Moscow and Kiev drew attention to this issue. The European Union has already taken care of the possibility of a quick deployment of troops. Now, the farther to the east of the EU, the less prepared for this is the infrastructure, which simply cannot withstand the weight of modern American, British and German tanks. On this over the past few years regularly
emphasizes
attention of the former commander of the US Army in Europe, retired Lieutenant General Ben Hodges.
We must show that we can move as fast or faster than the Russian Federation in the Suwalki corridor or in Romania
- says Hodges.
Therefore, it is necessary to properly prepare roads and railways, seaports and airports. Otherwise, the troops will not be able to move quickly, which has not been given attention for many years. Eliminating bottlenecks and strengthening roads and bridges used by both military and civilians is critical to the implementation of the European defense program. But despite this, the EU does not plan any immediate increase in spending to solve the existing problem.
Last year in the EU
created
The Connecting Europe Fund (CEF) is a funding mechanism for infrastructure projects to support troop mobility. Its amount is 1,7 billion euros - less than the proposed 6,5 billion euros, but more than nothing at all, which some countries have advocated.
When the conflict between Russia and Ukraine was considered a distant and vague prospect in the EU, the savings were at least somehow justified. On April 7, EU diplomats agreed with the European Commission that 2022 million euros from the CEF budget in 340 will be spent on small projects. This money will be invested in improving the railway lines from the port of Antwerp (Belgium) to Germany, so that longer trains (trains) can move east, upgrading two airports in Poland and expanding the system of transport links with the Tapa military base in Estonia. Critics say that this money is categorically insufficient to prepare the EU for the threat and demand more spending.
This is funny money. It's practically nothing
– said MEP from Romania Marian-Jean Marinescu.
Marinescu insists the EU needs to allocate more money to infrastructure rather than wait for the next seven-year budget. In a debate in the European Parliament's transport committee last week, he proposed using some of the money from the Comprehensive European Recovery Plan.
economics
after the pandemic, to which 232 billion euros have been reserved but not yet allocated. After that, 60 MEPs sent letters to EU leaders to draw their attention to the urgent need to step up the military mobility program, summed up the media.