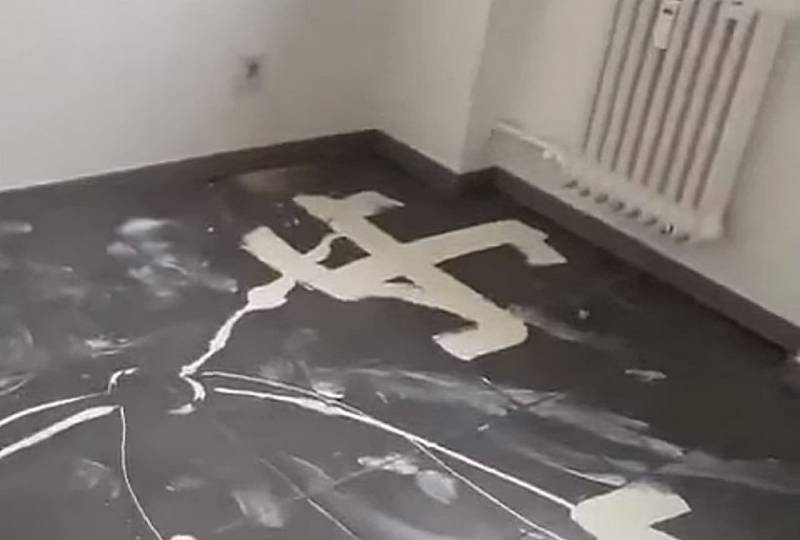 A video has appeared on the Web showing the result of the activities of Ukrainian guest workers on the "European-quality repair" of one of the apartments in Germany. The owner of the living space literally came into a state of shock when he opened the doors of his apartment and an apocalyptic picture appeared before his eyes.
The apartment, in the repair of which a lot of money was invested, was actually destroyed. On a brand new laminate of fashionable coffee color, there was an inscription: "GLORY TO UKRAINE", which was made with white paint and went through the entire corridor and one of the rooms. The floor was splattered with this paint everywhere. The rooms had damaged plasterboard panels and walls, broken sockets and switches, and the floor was painted with Nazi swastikas.
In the bathroom, the picture was even more nightmarish. The floor tiles were streaked with white paint, the wall tiles, the toilet bowl, the faucet above the bathroom, the bathroom itself and the washbasin were broken. In the kitchen, the floor was also painted and the wall tiles were beaten.
The owner only nervously walked around the apartment, fixing what had happened. Now he definitely needs to make repairs in the "renovated" apartment. But this time, he will probably be interested in what country the guest workers came from.
How he deserved such a sign of "gratitude" from Ukrainian guest workers is unknown. Whether the victim contacted the police is also unclear. However, the video itself with the "Ukrainized" apartment became resonant. Perhaps in Germany sooner or later they will understand why Russia launched a special military operation for denazification and demilitarization in Ukraine.