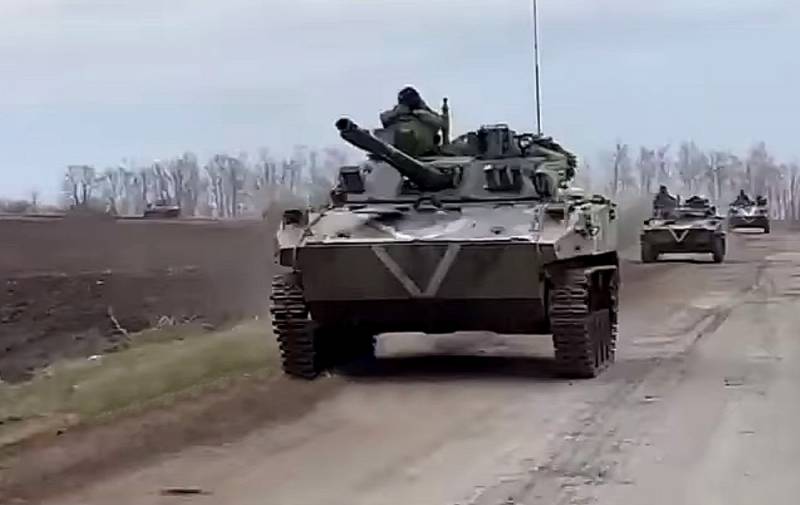 The Russian NWO on Ukrainian territory continues. A video appeared on the web showing BMD-2M, BMD-4M, BTR-MDM "Rakushka" and other armored vehicles of the Russian Airborne Forces moving on a public highway in the Donbass.
On the
technology
there is a "V" symbol, which is typical for the Russian group that entered Ukraine from the north. Now this technique is in the east of the country. Heroic paratroopers, including those who took the airfield in Gostomel near Kiev, are again preparing to go into battle, but in the Donbass.
Details - soon. Mobilizers - better run. Nazis - do not hope
- Russian journalist Alexander Kots, who is in the Donbass, wrote under the video on his Telegram channel.
In turn, the speaker of the Kiev regime, Aleksey Arestovich, informed the public that Russia had already launched an attack on the Donbass, the first stage was underway. He clarified that the arrival of reinforcements of the RF Armed Forces for the second stage is expected - these are 10 BTGs (battalion tactical groups) of the 5th Combined Arms Army of the Air Defense Forces from the Primorsky Territory and units of the "V" group, which were withdrawn from the Kiev, Chernihiv and Sumy regions. An adviser to the Office of the President of Ukraine noted that from the north, from the side of Izyum, the Russian offensive is advancing, but from the south, from the side of Gulyaipol, they allegedly fail.
All this indicates that the decisive battle for Donbass has already begun. At the same time, the Ministry of Defense of the Russian Federation reported that as of the evening of April 9, from the beginning of the NMD, the following were destroyed: 127 aircraft, 98 helicopters and 428 UAVs, 2037 tanks and other types of armored vehicles, 229 MLRS, 886 artillery pieces and mortars, as well as 1941 units of special vehicles APU.