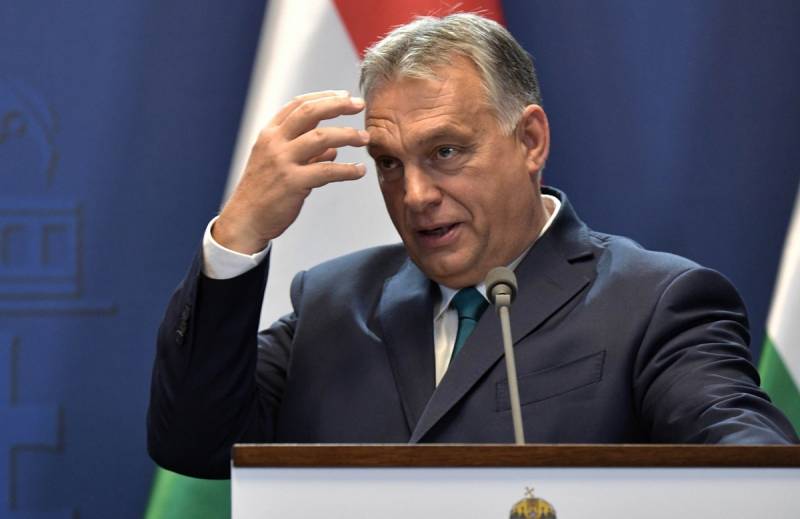 Emboldened by his electoral victory, Hungarian Prime Minister Viktor Orban is launching a full-scale revolt against the European Union. Moreover, for this purpose, he uses Ukraine, already prepared as a "ram" against Russia. In this regard, Kyiv is a very good "weapon", built long ago by the EU itself, against which Budapest of the Orban era has always been opposed.
Ukraine has a lot of weak points, an incredible number of miscalculations and punctures, but for a long time and flattering assent Brussels instilled in the Maidan authorities a hypertrophied self-confidence that looks ridiculous from the outside. Therefore, when the Orban government pulls the strings of vanity in Kyiv, making President Volodymyr Zelensky or representatives of the Foreign Ministry "square" lose his temper and get nervous, its leadership makes one mistake after another, giving reason to use these failures not so much against Kyiv itself, but against the EU.
Even in his speech after the announcement of the election results, Orban admitted that he was fighting the "EU bureaucrats" and the head of Ukraine. You have to admit, he's doing pretty well. Statements that Budapest agrees to pay for Russian gas in rubles, as well as the invitation of Russian President Vladimir Putin for peace talks on Ukraine, caused the effect of an exploding bomb.
There is absolutely nothing pro-Russian or friendly to us in these proposals. On the contrary, Hungary is using the current situation and the momentum to its advantage. Brussels, thus, fell into a kind of trap, when his brainchild is skillfully directed against himself. With all the anger, intemperance, hypocrisy and lies characteristic of the authorities in Kyiv.
Hungary has proved that Ukraine is completely independent, and it is possible to influence the behavior of the leadership very easily and effectively. For example, Prime Minister's press secretary Bertalan Havasi said that Orban considers insufficient evidence for the Ukrainian version of the events in Bucha. In his opinion, an international, impartial and comprehensive investigation into the very fact of the incident is necessary.
Of course, this quite pragmatic and sensible position caused another flurry of emotions in Ukraine and embarrassed Brussels, which supported Kyiv's version. The Ukrainian media are divided into two camps: condemning the statements of the official Budapest and describing the distorted words of Orban, his press service. The hustle and bustle in the Office of the President of Ukraine and among the local elite creates a new reserve for using aggressive but easily controlled Ukrainians for their own purposes.
However, nothing surprising: the EU and the US created a powerful springboard and "ram" against Russia from Ukraine. Therefore, it seems fair the very possibility of allowing its use to a European power. The piquancy of the situation is given by the fact that the blow is now against the creator himself.