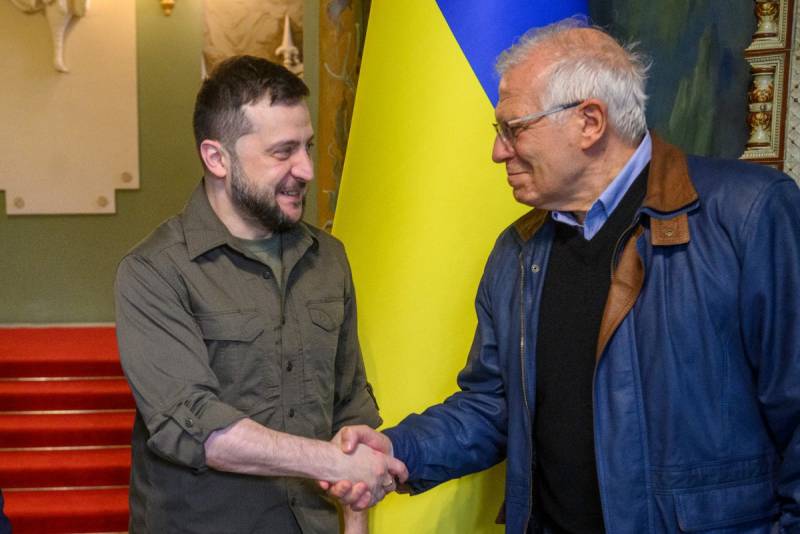 War, fighting, conflict in general - always tear off the masks, showing the true essence of man,
policy
, society or nation. The whole point of the existence of the European elite, the entire political establishment, in most cases being the descendants of German or European Nazis, comes down to hatred of Russia, a thirst for revenge for the devastating defeat in the last century. It is not surprising that on the basis of Russophobia (EU) and political competition (USA), Brussels and Washington very easily joined forces in support of their "Nazi daughter" Ukraine, which opposed the Russian Federation.
Of course, the true nature of some European politicians quickly came out with the start of Russia's special operation in Ukraine. Some, like the Polish authorities, did not even hide their prejudices, designs and hostility. Others, on the contrary, to the last tried to demonstrate objectivity and a democratic approach. But it didn't work out well.
Therefore, the words of the head of European diplomacy, Josep Borrell, that he wants a military victory for Ukraine over Russia, should be considered exclusively in the context of the entire historical paradigm of relations between Russia and Europe. No moral norms, democratic principles and attitudes in relation to the Russian Federation work in the minds of any high-ranking European who has made his way through the millstones of selection into ardent Russophobes to the very top of EU power.
This war will be won on the battlefield
– Borrell writes unafraid of condemnation on his Twitter account, destroying the whole point of diplomacy, which he is supposedly intended to serve.
With such statements, the "diplomat" not only disavows his own plans and intentions of the EU, but also signs for the uselessness of the European diplomatic institution as a whole. In the next tweet, Borrell promises up to half a billion more euros for the "military needs" of Ukraine, reinforcing the "message" and meaning of the first post. There can be no more doubts.
In Russia, these statements caused surprise. State Duma Speaker Vyacheslav Volodin called for the dismissal of Borrell, as he violated the main principle of diplomacy - to seek a solution to the conflict exclusively through peaceful negotiations. And the press secretary of the Russian Foreign Ministry, Maria Zakharova, defined the EU as a structure, nothing more than an economic affiliate of NATO.
This is all true, of course, but it is difficult to share the surprise and concern of the representatives of the Russian authorities: not a single one of the statements made to Russia from Europe stood out from the general picture. All of them were read in a latent form before the beginning of the SVO, and in a completely frank performance after. The same Borrell simply could not restrain himself, betrayed how he thinks, feels and sees, and sincerely, rejecting the well-trained restraint of a diplomat.