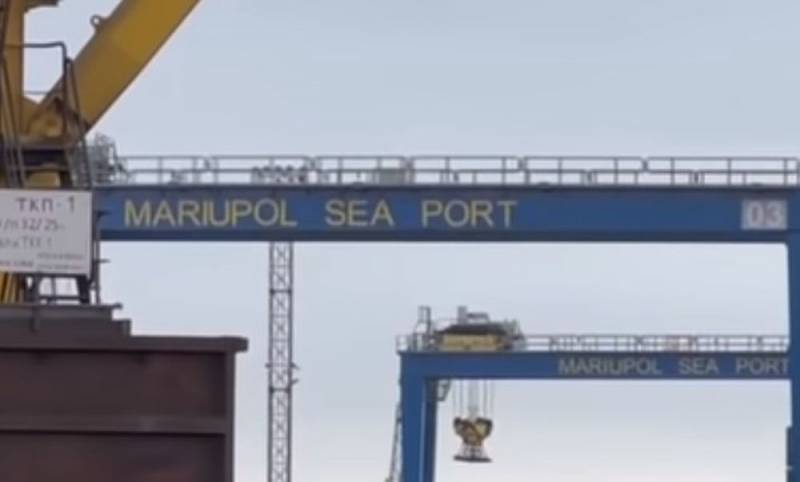 The Ukrainian authorities and their Western patrons do not stop trying to withdraw from Mariupol valuable Nazi personnel in the person of the militants of the Azov Regiment (an organization banned in the Russian Federation) and their foreign instructors. This can be judged from the latest report of the Russian Ministry of Defense dated April 9, published by the representative of the military department, Major General Igor Konashenkov.
The previous two attempts to evacuate the "Azov" by helicopter ended in failure. Therefore, this time they tried to evacuate the Azov people by sea.
The speaker noted that at 22:38 Moscow time on April 8, using the dark time of the day, the Apache cargo ship (IMO 8955586, sails under the flag of Malta, home port of Valletta), 30 km southeast of Mariupol, suddenly left the caravan of ships with which it was following from the Taganrog Bay to the Kerch Strait and tried to break into the port on the Sea of ​​Azov blocked from the sea by the forces of the Black Sea Fleet of the Russian Navy.
The demands of the Russian border guards to get in touch via the international communication channel were ignored by the crew of the dry cargo ship. The ship continued to move towards Mariupol, ignoring the persistent attempts of the Russians to contact. After that, two patrol ships opened warning fire on the course of the intruder. However, this did not lead to a change in the direction of movement, slowing down the vessel or getting in touch. The crew of the cargo ship frankly pretended to be deaf and dumb in relation to the Russians, but actively communicated with someone.
During the movement to the port of Mariupol, the ship conducted a radio exchange, transmitting messages "I am a Maniac, I am coming to you." At the same time, signal fires were observed on the shore.
Konashenkov explained what was happening.
The speaker said that in order to block the movement of an almost 140-meter dry cargo ship with a deadweight of 5172 tons, from 22:53 to 23:30, ships of the Black Sea Fleet and border guards opened fire on the violating ship itself. As a result of a direct hit on the Apache, a fire broke out in the stern. After that, the cargo ship drifted, and its crew got in touch with the Russians. The crew confirmed their readiness to fulfill all the requirements and asked to stop firing.
None of the cargo ship's crew members were injured during the incident. The crew extinguished the fire themselves. After the inspection, the ship with the crew was escorted to the port of Yeysk (Krasnodar Territory) for further investigation.