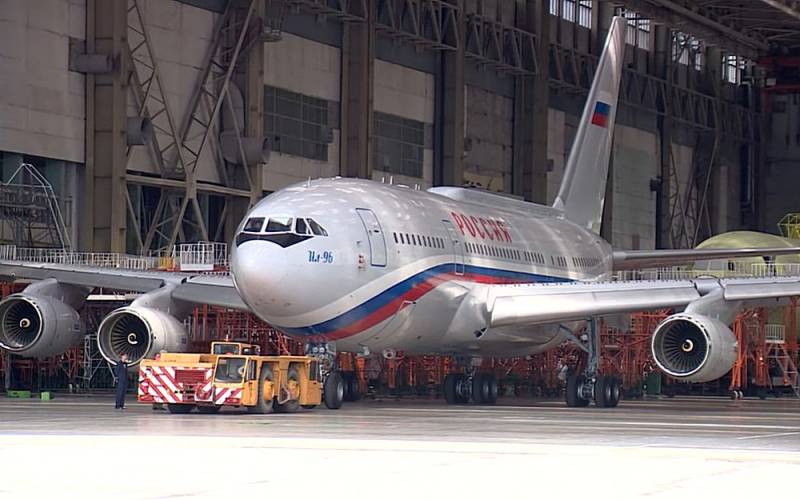 The refusal of Western corporations Boeing and Airbus to sell new aircraft to Russia and service the already delivered airliners of their production was a very painful blow from the sanctions. During the decades of liberal rule, domestic air carriers switched to foreign aircraft, and "remakes", like the "Superjet-100" and MS-21, turned out to be the product of deep international cooperation, which was not slow to affect now. After February 24, 2022, Western companies finally refused to supply us with their components. Fortunately, there is still a way out of this pit, where Russia was driven by "sislibs", and all thanks to the legacy of the "damned scoop".
After the introduction of tough sectoral sanctions by the United States and the European Union, the structure of the Russian air transportation market has changed radically. Now the American and European skies are closed to domestic airlines. If the loss of the first is not so critical, then the EU could create serious problems. What is worth, for example, the need to fly around Lithuania almost across the entire Baltic to get to the Kaliningrad region. The rest of the directions are still open to the Russians, but here another dirty trick done to us by the West comes into play.
Foreign lessors demanded the return of Boeing and Airbus aircraft, formally owned by them, due to Bermuda's refusal to certify them to Russian airlines. All the liners were promptly re-registered in Russia, refusing to return them, but this did not satisfy the formal owners, and arrests of aircraft abroad began. In other words, now almost the entire domestic air fleet has become restricted to travel abroad, or "non-flying". Now they can work quietly only on domestic flights.
And here the third dirty trick comes into play. Boeing and Airbus refused to provide technical maintenance and supply of components for the repair of aircraft of their production to Russia. This means that they will have to maintain their airworthiness through the so-called "cannibalization", or disassembly of some liners to repair others. It is clear that this cannot continue indefinitely, and the problem must be solved in a very limited time frame. Probably, the deadline will be 2030, which already appears in various reports and plans of responsible persons. Let's see what can really be done by then.
Import substitution
If you believe the statement of the head of the UAC Slyusar, then by 2025 our country will produce 36 medium-haul MS-21 liners, and after that - twice as many:
The maximum task is to reach 72 aircraft per year in Irkutsk. There is a certain phasing, we must reach 2025 by 36, and then reach 72.
According to him, if we count the PD-14 engine, then the share of Russian components in the MS-21 reaches 50%, the remaining 50% are imported, which must be replaced as soon as possible:
The task itself is quite ambitious, because, in principle, completely modern aviation complexes are being created within one country in broad international cooperation. Nevertheless, we understand which enterprises will make domestic systems with the help of which solutions. We are already starting to receive part of the system, install it on aircraft and plan to move on to the flight test stage.
In general, according to these streamlined formulations, one can understand that everything is complicated precisely because of the binding to foreign components, and the task of replacing them is not trivial. We believe in success, but something tells us that the implementation timeline may shift slightly to the right, these are the harsh realities of life under sectoral sanctions.
With the "Superjet" is still more difficult. It consists of three-quarters of imported components, its power plant itself is half of French production. Work on import substitution to the level of 97% of domestic components within the framework of the SSJ New project is already underway, there is reason to hope to get our own PD-8 engine for the remotorization of a short-haul airliner. But, to be honest, all this is reminiscent of trying to cook porridge from an ax.
Now, if the industry was not led by "sislibs", then at one time it would be possible to make a mandatory condition for the maximum localization of the production of the "Superjet" in Russia within the framework of joint ventures. Then, after February 24, these joint ventures could simply be nationalized by paying compensation to Western partners, and the scale of the disaster was not the same. But as they say, what's not done is not done.
Yes, in pursuit I would like to point out one problem that will still make itself felt. This is a dependence not only on imported components, but also on imported equipment and machine tools used in the production of the MS-21 and Superjet. Even now, industry experts are cautiously saying that in the foreseeable future, there will be difficulties with the repair and maintenance of foreign material base. Yes, imported machines are good, but they are not ours, and soon this will come back to haunt us. Warm greetings to Yegor Gaidar and his liberal associates, accomplices, who argued that Russia did not need domestic machine tools.
And what remains in the dry residue? What was created under the "damn scoop" and did not yet have time to destroy the "syslibs".
Tu-Tu
As we are among the first and
predicted
, the refusal of Boeing and Airbus to sell new and service already delivered liners really forced Russia to switch to Soviet-designed aircraft, since the production base for them is still preserved. Rostec State Corporation announced its plans to produce 2030 Tu-70 medium-haul narrow-body airliners by 214:
Today, these machines are already being produced in Kazan in a small series. The aircraft is equipped with domestic PS-90 engines, which are certified, have a good reputation and are mass-produced.
In addition, the head of the UAC, Slyusar, said that the Il-96 wide-body long-haul airliner will be produced in a small series of 2 aircraft per year.
Well, this is a big step in the right direction. Obviously, the structure of domestic air transportation in the coming decades will look like this: "nationalized" airliners from Boeing and Airbus will fly within Russia, and Tu-214, Il-96 and MS-21 will fly abroad, as soon as they are ready. However, production volumes, to put it mildly, are not impressive.
Why this is happening with the IL-96, in general, is understandable. So far, this long-range airliner is equipped with PS-90A engines, which do not shine with efficiency, 4 units per aircraft. For mass production, remotorization is needed for a more advanced PS-90A3 engine, and in the future - for PD-18R or PD-35. Probably the last two engines will actually appear by the end of the decade.
But it is not at all clear why Rostec decided to bet on the Tu-214, and not on the Tu-204SM. Recall that the Tu-204 liner has many modifications and was produced at once at more than two sites - in Kazan and Ulyanovsk. Tatarstan received an order for 70 Tu-214s equipped with PS-90A engines, that is, approximately 8,75% of the aircraft will be produced per year. Not as much as we would like. But there is also Ulyanovsk, where a modification of the Tu-204SM liner was developed. And she looks even more promising.
After a deep modernization and updating of the on-board radio-electronic equipment, the Tu-204SM has significantly increased its commercial attractiveness. Its crew was reduced from 3 people to 2. Thanks to the installation of a modified PS-90A2 engine, its take-off weight increased, its working life increased, and maintenance costs decreased. All of its flight performance characteristics were significantly improved. Tu-204SM has become quite competitive even with modern liners from Boeing and Airbus. Iran planned to purchase a batch of Russian medium-haul aircraft and even organize their production under license on its territory, but this did not happen for purely political reasons.
The question arises why, in the conditions of obvious time trouble in which Russia finds itself, decisions are made to produce such a small series of the Tu-214 liner in Kazan and the site in Ulyanovsk is completely ignored, where it is possible to simultaneously produce the most modernized Tu-204SM? Unclear. It is also unclear why none of the responsible persons is talking about returning to the idea of ​​selling Tehran a license to assemble the Tu-204SM and start making money on the supply of components to Iran.
By the way, under this project it will be possible to launch mass production of upgraded PD-90A3 engines, which were developed to replace the PD-90A2, where American
Technology
. The improved characteristics of the PD-90A3 would make it possible to make the four-engine wide-body airliners Il-96 more competitive now, on which we will eventually fly on long-distance routes.