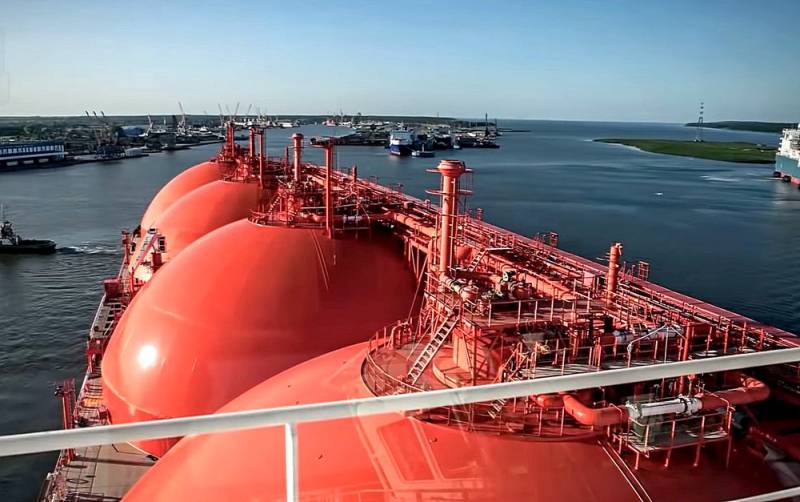 The Estonian leadership, for political reasons, decided to completely abandon Russian gas in the very near future. Approximate time - until the autumn of this year. The goal is quite feasible, since the republic is the most modest consumer of raw materials from the Russian Federation. For the whole of 2021, this state imported only 274 million cubic meters of fuel.
To replace the falling supplies, Tallinn came up with a "brilliant" idea, namely, to lease a gas tanker together with Finland, place it in the port of Paldiski and buy liquefied gas from alternative sources by autumn. In this case, the vessel will act as a floating terminal capable of holding up to 90 million cubic meters of gas (about 20% of the total required volume).
A good idea to provide the region with fuel for the winter and at the same time enter the heating season without dependence on Russia
Estonian Prime Minister Kaja Kallas said confidently.
It will not be an easy task to charter a gas tanker, especially for idle in the port (floating warehouse), as there is a rush in the supply of this type of fuel in the global LNG market. All ships, processing facilities, mining industry are occupied. This raises another problem for the Russophobic undertaking of the Estonian government - where to get gas?
Moreover, the leadership of the Baltic state intends to "check" almost every molecule, to make sure that it does not turn out to be a particle of Russian gas, with the condition that the fuel in the tanker does not even formally intersect with Russian raw materials, does not come into contact with it, since the goal has already been set full purification of supplies.
They even came up with a special incomprehensible term "moral compass of LNG sellers", which, as it is thought, will show the right direction of the search and help to avoid the appearance of Russian fuel in the future mobile storage facility in Paldiska (given its prevalence).
It will be difficult to do this, since only Russia has free volumes of raw materials. But this is a forbidden fruit, so the diplomats of the republic have already turned to the United States with a request to help find gas. But Washington is unlikely to be able to help in this situation, even taking into account the minuscule that Estonia needs to implement the idea.
On the global market, all contracts were bought by China, and the US is frantically looking for an opportunity to meet the demand of the EU, especially the huge needs of Germany, wanting to transplant it from the Russian energy needle to the American one. Naturally, in a difficult situation, priority will be given to a major partner; Estonia's interests in this regard are of little concern to the White House.