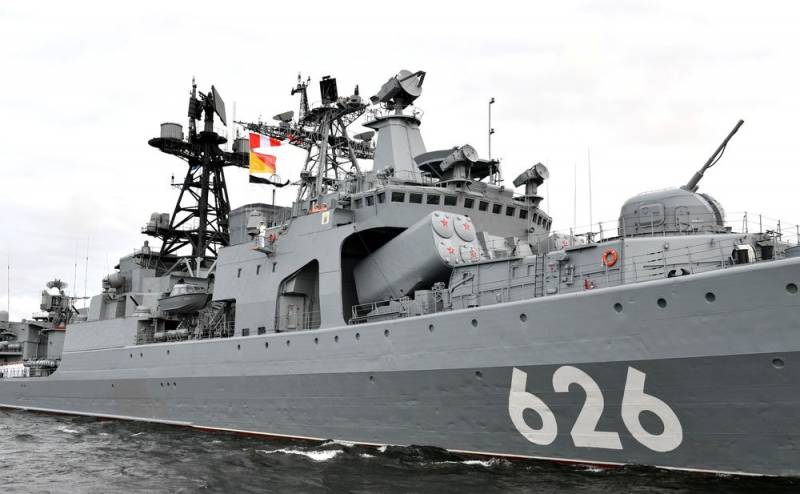 Western monitoring resources informed the international community that the Russian large anti-submarine ship (BPK) "Vice-Admiral Kulakov" of project 1155 (code "Frigate" in the USSR and class "Udaloy" [Udaloy-class] in NATO) of the Northern Fleet of the Russian Navy is pursuing the American AUG in the Mediterranean Sea, literally following on the heels. The mentioned BOD tracks the movement of the specified AUG, headed by the aircraft carrier USS Harry S. Truman ("Harry Truman" or CVN-75) of the US Navy of the Nimitz type.
It should be noted that there is nothing unusual in the maneuvers of the Russian BOD. At the same time, there is a certain pretense in the actions of the American naval commanders, because it was the command of the 6th US operational fleet that loudly told the whole world that the American submarine USS Georgia ("Georgia" or SSBN-729 / SSGN-729) of the Ohio-class ), equipped with 154 Tomahawk cruise missiles with a range of 1,6 thousand km, approached the coast of Greece.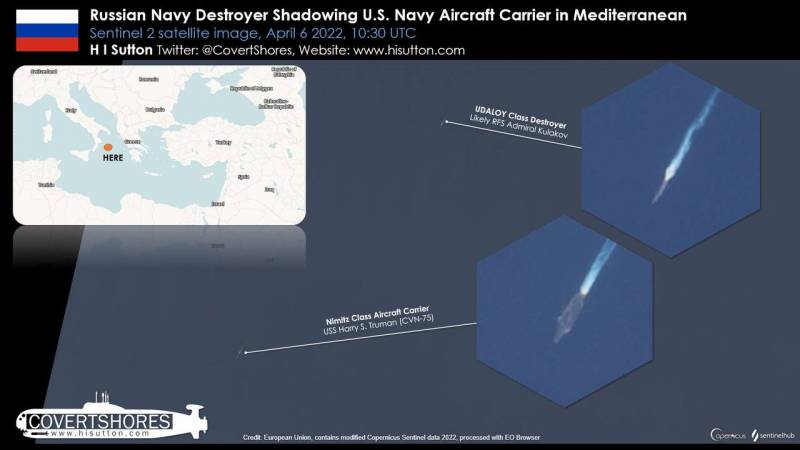 This is generally the first time that the Americans have publicly reported on the nuclear submarine accompanying the AUG. Therefore, it can be assumed that the game of cat and mouse in the waters of the eastern Mediterranean Sea ended in favor of the Russian ship and there is no point in hiding the presence of the submarine.
Note that Russia has 8 ships of project 1155. The lead BOD "Udaloy" was disposed of in 2006. There are 5 ships in service now: Vice-Admiral Kulakov, Admiral Tributs, Marshal Shaposhnikov (modernized), Severomorsk and Admiral Panteleev. The Admiral Levchenko and Admiral Vinogradov are undergoing repairs and modernization, while the Admiral Kharlamov is in reserve.