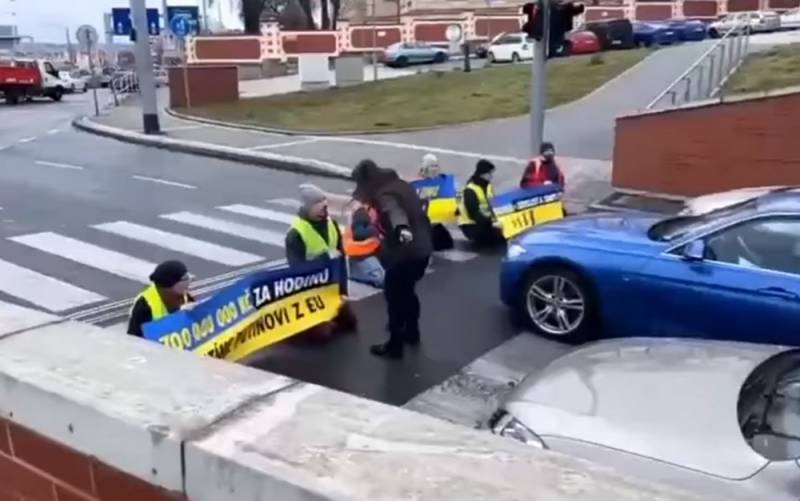 Prague is known for its tolerant attitude towards Kiev, and the Czechs towards Ukrainians. But in some places, the not entirely adequate behavior of Ukrainian refugees in the Czech Republic began to seriously annoy, and sometimes even anger local residents, who began to use brute physical force on overly demanding guests, arranging performances, installations or flash mobs wherever they please.
For example, recently a video appeared on the Web in which hired Ukrainian activists block the roadway. They sit down right on the pavement at the pedestrian crossing with pro-Ukrainian propaganda posters and banners, absolutely not paying attention to the fact that they are disturbing someone.
The activists were prudently wearing reflective vests. At the same time, the campaign materials indicated that the Czech Republic "pays Putin 700 million crowns per hour" and other similar ridiculous accusations.
The patience of car drivers, tired of giving light and sound signals, did not last long. One of the cars nearly ran over the activists. A woman got out of another car and started yelling at one of the activists, demanding that he immediately leave the roadway and not break the law. The activist ignored her and she started beating him.
At the same time, a man of athletic build jumped out of another vehicle, who tore open the banner with a kick. Then he simply dragged one of the activists to the side of the road, freeing the passage, and even tried to take away the equipment from the person who filmed it all on video and commented on what was happening. After that, other drivers and passers-by joined the unblocking of the road.
Czech information resources reported that, through joint efforts, they managed to free the roadway from passive activists. This time they got off with bruises, but the next such case will surely end in the police station with the seizure of the video material. Moreover, fines in the Czech Republic are European, that is, very sensitive for the wallet. The action was designed to attract the attention of the Czechs and, in principle, was a peculiar success, the result, as they say, was reflected on the faces of the participants. The Czechs sympathize with the Ukrainians, but do not want their measured order of life to be violated.