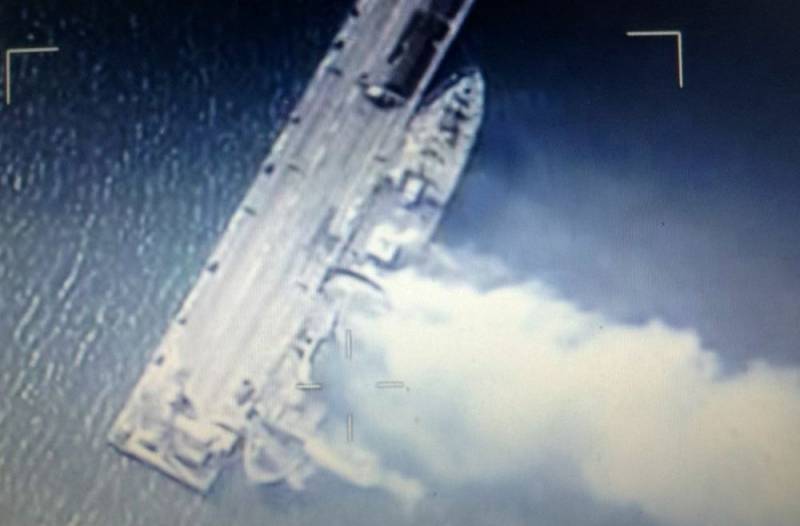 The Ukrainian fleet has lost another of its warships. It became known that the search and rescue vessel "Donbass" of the Ukrainian Navy is on fire in Mariupol. Sources from Donetsk report that the Nazis from the Azov Regiment (an organization banned in the Russian Federation) deliberately set fire to the Donbass so that it would not fall into the hands of the DPR.
It should be noted that since at least February 16, the said vessel has been moored at the 5th berth in the Khlebnaya harbor of the Mariupol Commercial Sea Port. However, on April 6, it was seen in thick clouds of smoke. This is proved by satellite images and photographs taken by aerial reconnaissance.
The history of the ship is indicative for the entire Ukrainian fleet. On it several times there were fires and changed names. The ship was built in Poland in 1969. Then it was the floating workshop "PM-9" of the USSR Navy. After the division of the Black Sea Fleet of the USSR, "PM-9" was renamed "Krasnodon" (n/n U803), and in 2001 - to "Donbass" (n/n U500). In 2004, when the ship was being converted into a control ship, a fire broke out on it. After that, for many years he was at the quay wall in the Sevastopol Bay.
In March 2014, the Russian flag was raised on the Donbass, and the Ukrainian crew was sent ashore. However, already in April of the same year, the Russians returned this ship as unnecessary. "Donbass" again became part of the Ukrainian Navy and was relocated to the port of Odessa. In 2016, another fire broke out on it. In 2017, repairs were carried out, and in 2018, the Donbass search and rescue vessel, supported by the Korets tugboat, entered the waters of the Sea of ​​Azov.
Thus, Ukraine lost Donbass twice: the first time - temporarily, and the second - completely. The ship is now considered destroyed. No one is fighting for its survivability, restoration is hardly possible, and there is no point.