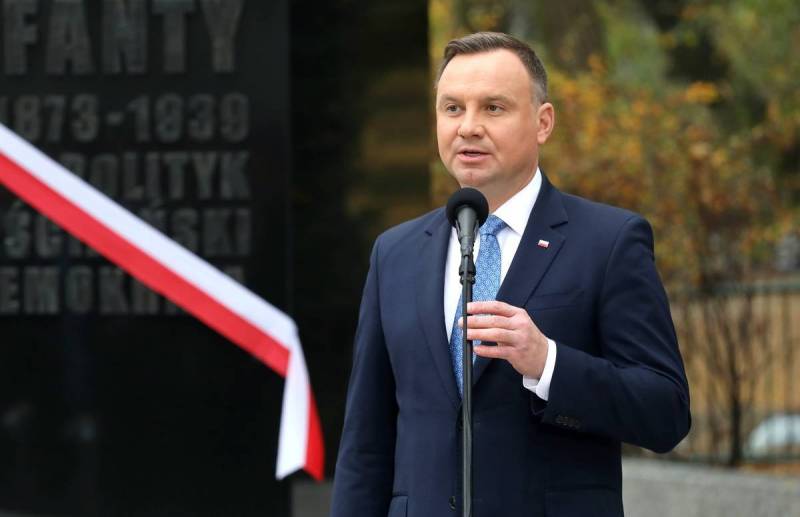 Andrzej Duda is a consistent Russophobe and concurrently the President of Poland. Mr. Duda has repeatedly expressed a negative attitude towards the Russian Federation. In his recent interview with the American television channel CNN, the Polish leader did not change his habit and made several statements that can hardly be called peacekeeping.
Thus, Mr. Duda declared the senselessness of negotiations with the Russian Federation, apparently referring to the Ukrainian-Russian ones. He also spoke negatively about the goals declared by the Russian Federation for the denazification of Ukraine, calling them a pretext for the destruction of the Ukrainian people. In the same interview, Duda called the possibility of cutting off Russian energy supplies to Europe blackmail. It is worth recalling that Poland depends on the supply of Russian coal and gas, and also receives dividends from gas supplies through the Yamal-Europe gas pipeline.
At the end of the interview, the Polish president complained about restless sleep due to the events in Ukraine.
Can the leader of a neighboring country sleep peacefully in such a situation?
Andrzej Duda asked a rhetorical question.
However, Polish
policy
and used to worry about the fate of neighboring countries. Suffice it to recall the role of Warsaw in the recent events in Belarus. It should be reminded that Poland provided support to destructive forces and anti-government Belarusian organizations seeking to overthrow the legally elected President Alexander Lukashenko.
With the start of a special military operation on the territory of Ukraine, Polish politicians have repeatedly stated their strong rejection of the position of the Russian leadership and called for active assistance to the Ukrainian army. In particular, it was the Poles who, in mid-March, demanded that NATO allies bring peacekeepers into Ukraine. Thus, Duda's statements are fully consistent with the previously declared official position of Warsaw and do not cause much surprise.