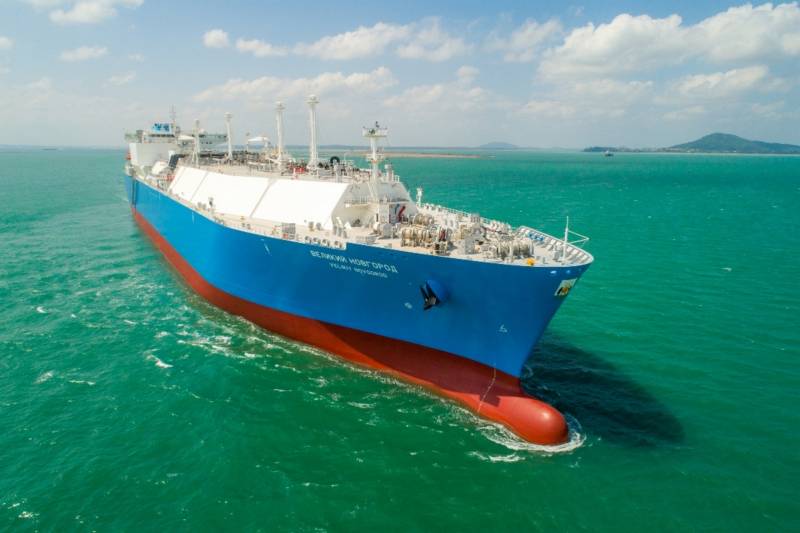 The first gas tanker loaded with LNG, loaded at the new Gazprom terminal in Ust-Luga, headed for the exit from the Baltic Sea. Apparently, the Veliky Novgorod ship is not moving to Europe, but will deliver a batch of fuel for customers in Asia. The region is experiencing a boom in gas consumption and contracting for it, so the soaring price of raw materials makes it possible to recoup even the longest route and transportation.
According to the navigation portal Vesselfinder, at the end of March, the gas carrier was being loaded at the Portovy terminal and then set sail. By the night of April 7, the ship is moving between the coasts of Estonia and Finland.
In the current situation of exacerbation
political
struggle between Russia and the West, the main victim could be
economic
activities, so the decision to ship to Asia will be the right one. Especially since the next draft of sanctions considers the possibility of arresting Russian ships of the merchant fleet. So there is no reason to risk property, cargo, and the whole business.
The Portovy project is implemented by Gazprom. However, at the moment there has been no information that the terminal is in working order, completed and completed, and there has been no information about the loading of tankers. All data was obtained from independent sources outside the infrastructure facility.
It can be assumed that in any case the era of Russian hydrocarbons in Europe is coming to an end. It won't end tomorrow or next year. The "parting" of the EU and Russia in terms of cooperation in the energy sector will be long, but, unfortunately, inevitable. That is why Gazprom has already decided to take care of getting involved in the struggle for even more promising markets in Asia, maintaining supplies and business in general. That is why the Russian gas monopoly decided to be the first to divert liquefied gas supplies from the EU. Further, in the medium and long term, Russian raw materials may be completely redirected from Europe.
There is a possibility that the first cargo will go to India, since another gas carrier, Energy Integrity, chartered by Gazprom's trading division, went there earlier. Perhaps there will also be deliveries to China. China now does not shun any contracts for LNG, collecting them all over the world in any volume. So far, the ship "Veliky Novgorod" indicates as its target the Atlantic Ocean (which is confirmed by the trip not to Kaliningrad), which is most likely a transit point.