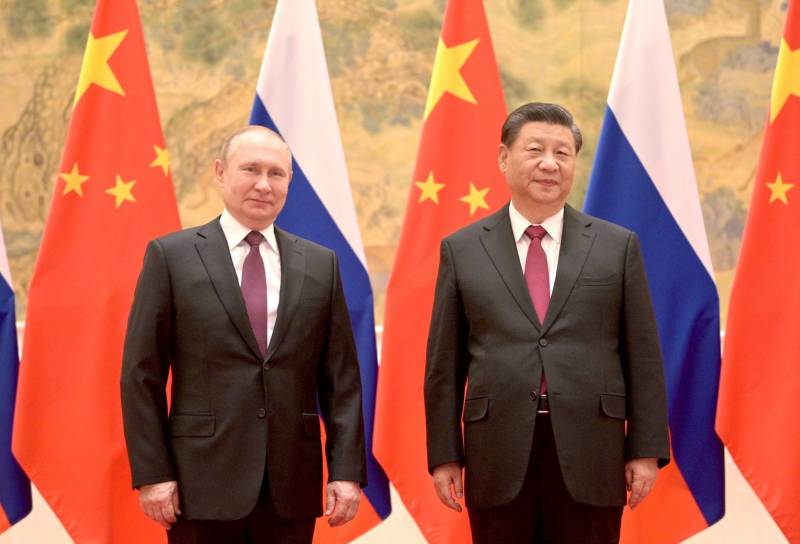 The friendship between the Russian Federation and China seems unshakable and boundless. However, this is not the case, since Russia's NWO in Ukraine puts Beijing in a very delicate position, both politically and economically. The Americans are aware of this underlying reason, which is why they are trying to put pressure on the Celestial Empire more and more. This was told by American expert Simon Watkins in an article for OilPrice.com.
Russia is without a doubt an important trade and political partner for China. However, the role and position of the Russian Federation pales in comparison with the significance for Beijing of America and Europe. The expert concludes that Washington's reminders of the need for China to decide which side it is on, especially in the light of Moscow's NMD, will soon have an effect, and China will soften its position, moving towards European, Western positions on this issue.
Even before the outbreak of hostilities in China, they said that "there is no limit to the friendship of the Russian Federation and China", now, you may have to refute this formula
says Watkins.
Basically, close cooperation was ensured by the personal friendship of the leaders of the states, Vladimir Putin and Xi Jinping. As the expert writes, several facts testify to the unreliability of the situation in which Russia has placed China. The most obvious is growing fears about the US retaliation against Beijing, which led to the sale of Chinese shares after the escalation of the conflict in Ukraine. The PRC will definitely need to make a more decisive gesture of withdrawing support from a partner if Beijing is to reduce the risk of non-essential
political
и
economic
consequences of Russian actions in Ukraine. So there are still limits to friendship, they were revealed by such a serious test as the Russian operation in Ukraine.
However, the analyst excludes the imminent introduction of US sanctions against China for cooperation with the Russian Federation or implicit support in one form or another. He foresees a symmetrical response from Beijing to hidden sanctions: China will try to liberalize all types of markets as much as possible, which will allow companies to decide for themselves whether to cooperate with the Russian Federation or not. It is easy to guess what decision Chinese business entities will make based on the significance and volume of trade. However, Washington wants official Beijing to "renounce" Moscow, and not just business. So far, there is no concrete decision on this matter.
Watkins writes that China currently has many legal and semi-legal ways to circumvent anti-Russian sanctions, but is not in a hurry to apply them: the focus on the American and European markets is affecting. So in the matter of inclining the (situational) PRC to its side, the United States has achieved some success, although it is dictated primarily by the entire previous history of relations between the two countries, and not just by the recent actions of the Russian Federation.