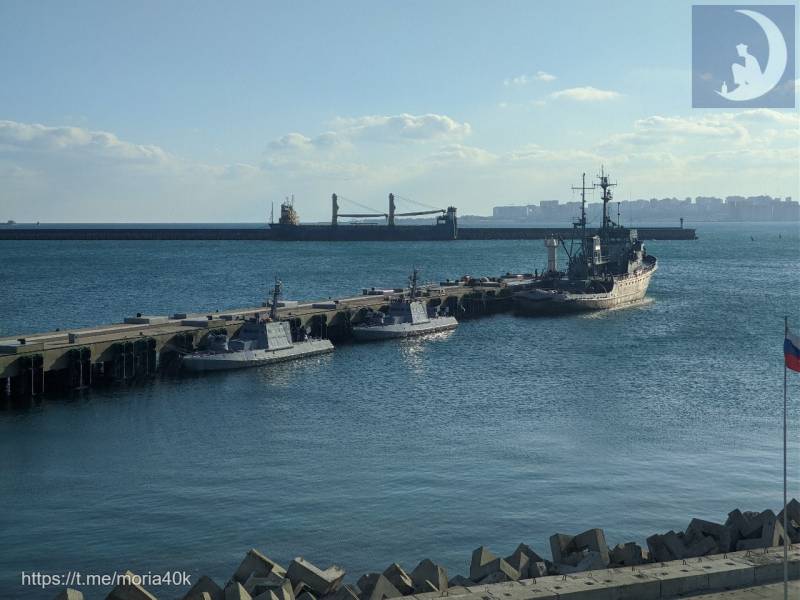 In the course of a special operation carried out by the RF Armed Forces on Ukrainian territory, Russian servicemen captured a naval group of the Ukrainian Navy operating in the Sea of ​​Azov. In the first half of March, units of the Armed Forces of Ukraine, hastily retreating from Berdyansk, simply abandoned the Korets tugboat (A830), converted into a semblance of a patrol ship, as well as two project 58155 artillery armored boats (code Gyurza-M) - BK-02 Akkerman (n/n R-174) and BK-03 "Vyshgorod" (n/n R-176).
Such abandonment of the "Azov flotilla" of the Ukrainian Navy at the pier is a shame for military sailors, which directly points to the imminent inglorious end of the entire Ukrainian "mosquito fleet". Ukrainian "naval commanders" did not bother to flood the boats. Moreover, they did not even cause serious damage to property. That's how fast they ran.
Now there is an opportunity for at least some of these watercraft to serve Russia. Unofficial information has appeared that Akkerman and Vyshgord may receive the names AK-101 and AK-102, and then continue to serve in the Black Sea Fleet of the Russian Navy.
technical
readiness is fully restored. It is planned (proposals have been submitted to the main command of the Navy) to include them in the Novorossiysk naval base in the minesweeper division
- says the publication
Telegram channel "Sailor"
.
In the meantime, the remnants of the Ukrainian Navy
concentrated
in the Dnieper-Bug estuary and near Odessa. It is possible that some of these boats will be lucky and after some time there will also be suggestions about the likely continuation of service in the Russian fleet. But not a fact.