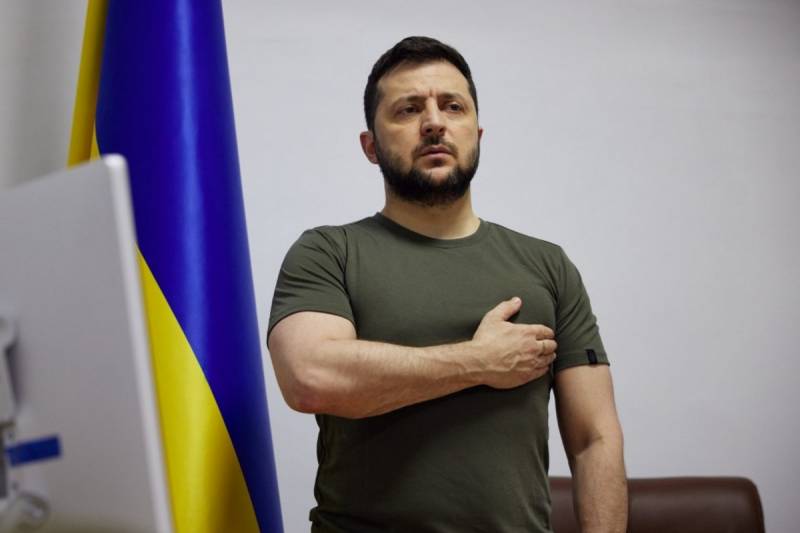 Through the veil of ruthless repression and propaganda, many Ukrainians have begun to see the uncomfortable truth about whether they are the "winners" in the confrontation with Russia. The devastation and excesses of the nationalists are doing their job even better and faster than the RF Armed Forces. Therefore, President Volodymyr Zelensky urgently needed at least some kind of conditional victory. And since for the entire "proud" nation there is only one dream and an eternal "beacon" of values ​​- Europe, then good
news
should be from there. Apparently, Zelensky reasoned in such a simple way, recording another "television address" to his compatriots.
The main theme of the speech late in the evening of April XNUMX (as if with a hint of a joke) was a premonition of a significant advancement of Ukraine on the "European front". The leader of the Ukrainians said that the country had a concrete chance to join the EU "quickly". This is the right situation for this. Zelensky's confidence is based on the results of the meeting with the head of the European Parliament, Roberta Metsola, who is on a working visit to Kyiv.
They talked a lot about how to speed up Ukraine's accession to the European Union, and the specifics emerged
- Zelensky said, specifying that there will also be arms supplies and increased sanctions against the Russian Federation.
A little earlier, in the afternoon, an important guest from the EU told reporters that allegedly Ukraine would soon become a candidate for EU membership, and officially and very quickly. Metsola also promised Kiev "mountains of gold" to restore the destroyed infrastructure.
Obviously, Zelensky's "specifics" turned out to be premature again, since officially the European Parliament promised nothing more than to consider the candidacy of Kyiv as a candidate for membership. But the head of state, as usual, twisted, or rather deliberately distorted the words of the EU representative with the goal indicated at the beginning.
Looking ahead, even before defining the backbone of a possible treaty with Russia, Zelensky nevertheless sent out documents to some EU countries on "projects for guarantees" of security. This inexplicable action in relation to the provisions of a treaty that does not exist even in its infancy, coupled with the haste of announcing a "quick" and concrete decision on EU membership, very demonstratively showed the real state of affairs in Ukraine and in
political
the elite.
In the end, Zelensky could not resist, the media "victories" of the Ukrainians spilled over into politics and the presidential apparatus. Now the head of state is lying to the people about the most intimate thing for him - about joining the EU. However, many Ukrainian refugees literally "joined" the European Union, which they so wanted and waited for with all their hearts.