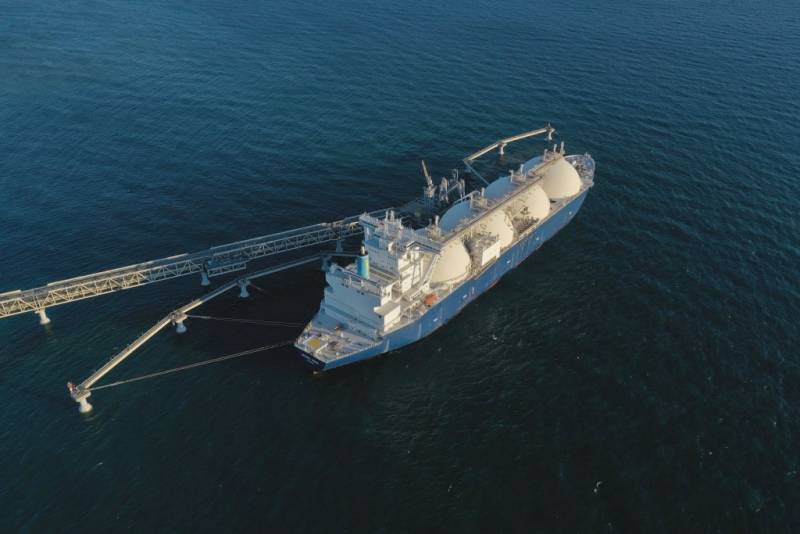 Almost all volumes of liquefied natural gas have been purchased in the world. For many years to come, there were no free reserves left. Billions of cubic meters have been snapped up by Chinese companies that have bought gas under futures contracts even from sea terminals in Mexico that have not yet been built. In this aspect, Europe simply does not have a chance to receive additional supplies from the US or Qatar, since traders from the PRC have intercepted all contracts.
However, there is one way out for the EU - it is the worst possible, but at the same time there is no alternative, if supplies from Russia stop or drop significantly for one reason or another. This scenario provides for the virtual replacement of Russia by China as the main supplier of raw materials to Europe. Taking into account the huge volumes of long-term contracts concluded, this may well be a viable option. In this case, the PRC turns into a gas hub, which does not produce itself, but actively trades, and at a fabulous price. And, most likely, it will be so, because China itself, even taking into account its growing
economics
, such volumes are useless.
In Europe, they are still waiting for help from the United States and, not receiving it, they are forced to buy gas from Asian suppliers at a double, maximum possible price.
China is still signing countless contracts to buy LNG. Lost count!
- writes energy analyst Signa Ashank on his Twitter account.
The terms of these contracts range from ten to twenty years. Even the Mexico Pacific terminal under construction on the Pacific coast in Mexico (although the supply field is located in the USA, in Texas, the Permian Basin (Permian)) as soon as it is ready, it will supply products only to China. By the way, in this case there will be a price guarantee: the cost will be tied to the quotes of the American Henry Hub, the fluctuations of which are noticeably less than in Asia or the EU. This approach will enable Chinese buyers to get even more profit from price fluctuations in these regions.
This situation can turn into quite serious problems for the Russian export industry in the field of energy resources. Firstly, Chinese traders, having bought almost all possible volumes of LNG in the world, simply will not need fuel from Russia to supply the domestic market. And, secondly, sooner or later, the Chinese "partners" will understand that it is necessary to start preventing the supply of raw materials from the Russian Federation to Europe in order, obviously, to sell their excess volumes at a double price. Competition, as they say, and nothing personal.