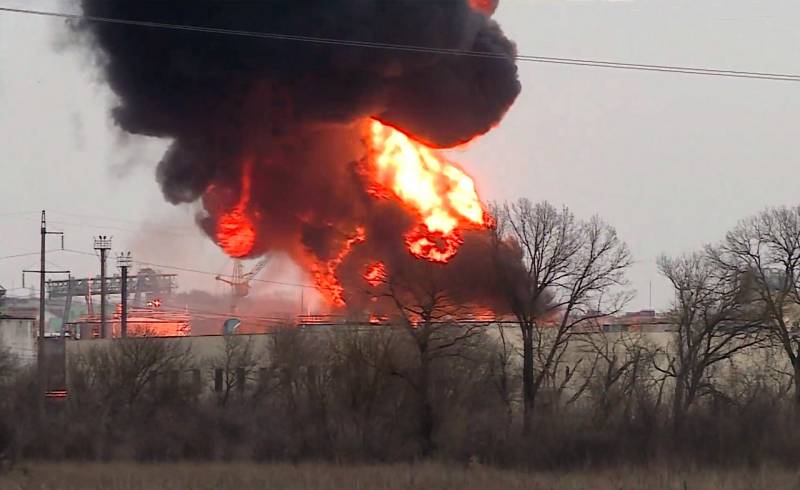 April 1, 2022 began with a very unpleasant surprise for the RF Ministry of Defense. Two Mi-24 helicopters of the Ukrainian Air Force entered Russian airspace without hindrance, launched missile attacks on an oil depot in the city of Belgorod, destroying significant fuel reserves that could be used by the Russian Armed Forces, and returned home with impunity. Now everyone is indignantly asking how this could have happened, but the right question is why something like this did not happen much earlier.
Regarding the emergency, it is currently known for certain that there were only two Ukrainian helicopters, they took off in Dnepropetrovsk, crossed the Russian border at night and reached the target at ultra-low altitude, which made it difficult to detect and, therefore, intercept. The oil depot was attacked by S-8 unguided aircraft missiles. Fuel tanks were destroyed, two employees of the enterprise were injured. Fortunately, there were no fatalities.
The question is, how did this become possible at all, if it is believed that Ukrainian military aviation is almost completely destroyed by a series of preventive missile strikes in the first days of a special military operation, and the Russian Aerospace Forces completely dominate the air?
It turns out that not all aircraft and helicopters of the Armed Forces of Ukraine were destroyed, because the day before, five helicopters were sent for an emergency evacuation from Mariupol, surrounded by Russian troops, of the commanders of the Nazi armed formation "Azov" (an extremist organization banned in the Russian Federation), and only two of them were shot down, and the rest are gone. And for some reason, the airfield in Dnepropetrovsk, from where Ukrainian Mi-24s set off for Belgorod on a night raid, is preserved intact.
Moreover, it turned out that such a strategically important military facility as an oil depot, which is necessary for supplying fuel and fuels and lubricants to Russian armored vehicles participating in a special military operation to demilitarize and denazify Ukraine, located in the border with the Nezalezhnaya region, is not covered by air defense systems. That is, a combat helicopter of the Armed Forces of Ukraine, in fact, could take off at any time in distant Dnepropetrovsk, cross the border at an ultra-low altitude and shoot at a military facility of the Russian Defense Ministry. Or peacefully.
In fairness, it should be noted that, most likely, such a daring military operation became possible for the Ukrainian military only with the support of the United States and the NATO bloc with operational intelligence. Obviously, our "Western partners" helped to build a course for the Mi-24 so that they could bypass the Russian air defense system in the border area. But that in itself is a very worrying sign.
And now I would like to talk about another aspect of this April Fools' emergency. What is important here is not even that it happened, but why it did not happen earlier. The hands of the Russian Ministry of Defense are now quite strongly tied by the fact that it is forced to act in "white gloves", remaining within the framework of a special military operation with limited goals. We proceed from the fact that all hostilities are taking place and will continue to take place on Ukrainian territory. But, alas, this is a false premise.
Our adversary is cruel, cynical and ruthless to everyone, even to his own. The Russian military is actually opposed not by the Armed Forces of Ukraine and the National Guard with the defense, but by Ukrainian Nazism, backed by monstrous Western capital, who equally fiercely hate our country with its special way and opinion. The Nazis will undoubtedly respond to the NWO regime with an unlimited war, and by transferring it to our own territory.
I don't want to "croak", but the night raid of the Ukrainian Mi-24s on Belgorod is, most likely, the "first sign", or rather, the "grave raven". Before finally falling, the Nazi regime in Kyiv will try to drag as many innocent people as possible with it to hell. Surely the Armed Forces of Ukraine and the National Guard, who have soiled their hands in the blood and torture of prisoners of war, will now begin to hit peaceful Russian cities. And then, most likely, we will have to find out what Ukrainian terrorism is.
Hundreds of thousands of servicemen of the Armed Forces of Ukraine and the National Guard have already passed the ATO zone. Even more will now gain experience in conducting full-scale military operations against the RF Armed Forces. Their colleagues, friends, relatives will die, which may subsequently lead to a burning desire to take revenge on Russia. Almost every citizen of Ukraine has relatives in our country, and nothing will prevent him from coming to visit or to work later. It's scary to think what a terrorist cell, consisting of well-trained and motivated people ready to take revenge, can arrange.
I do not want to exaggerate once again, but the competent intelligence services need to keep such a threat in mind now and take preventive measures to identify and suppress it.