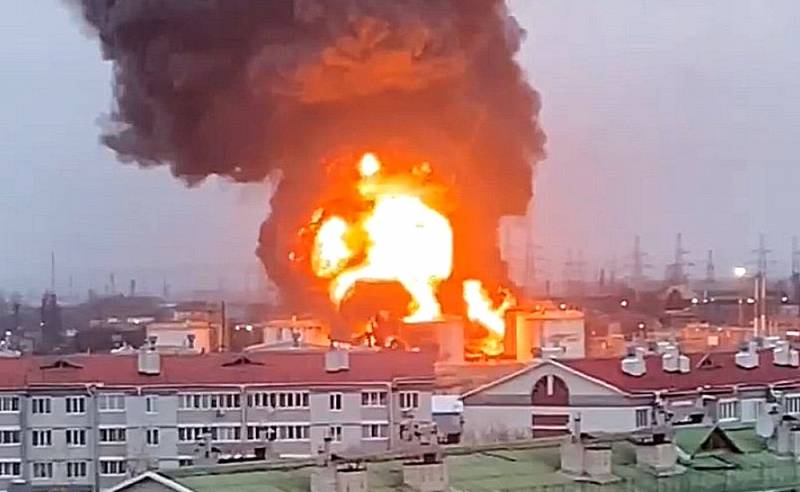 On Friday, April 1, two helicopters of the Ukrainian armed forces launched a missile attack on an oil depot in Belgorod, which led to the ignition of eight tanks with fuel and lubricants. He shared his ambiguous opinion on why such a daring action of the Armed Forces of Ukraine became possible, shared on the air
"Moscow says"
First Deputy Head of the Committee on Foreign Affairs of the Federation Council Vladimir Dzhabarov.
The senator believes that the Russian air defense forces were unable to withstand the Ukrainian Mi-24s due to the fact that they were flying at too low an altitude.
They flew with great danger, there was about seven meters. With such a low height, you can hook on any obstacle. Air defense systems, radars operate at higher levels, they mainly protect against missiles and aircraft
Jabarov noted.
At the same time, the member of the Federation Council is sure that the Russian Armed Forces should strike back at the bases of Ukrainian helicopters that attacked objects on Russian territory. In this way attempts of similar actions in the future will be prevented.
It should be noted that in the arsenal of the Russian army there are anti-aircraft missile systems capable of hitting air targets at altitudes of five meters above the ground. These include, in particular, the Pantsir-S air defense missile system (for its guns, in principle, there is no concept of a minimum target flight altitude), as well as the Tor air defense system. If the radar station is located on a hill, which, however, is the norm, it is not difficult to detect a low-flying object. Therefore, the words of the senator seem very strange and not entirely competent.