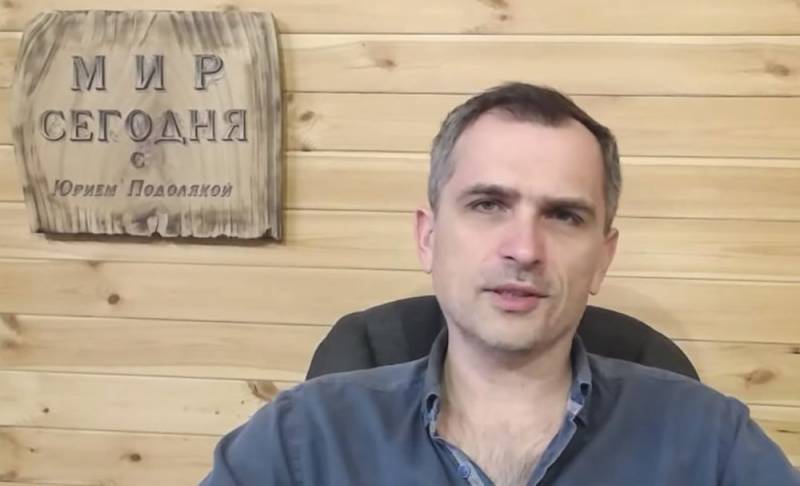 The DPR and LPR will almost certainly become part of Russia. This was announced by Russian-Ukrainian expert Yuriy Podolyaka during a conversation on the streaming channel "Uncle Vanya Peace to the World about Donbass", answering questions from the audience.
At 99,9%, he (Donbass - ed.) Over time, and in a very close time, will enter the Russian Federation. After the decision was made to start a military campaign in Ukraine, the further maintenance of the LPR and DPR as separate fragments does not make any sense. This only made sense in the event of a political decision on Ukraine. Now it doesn't make any sense. Of course they will come
- said the expert.
As for the remaining territories of Ukraine, Podaliaka believes that a very interesting scenario awaits them.
They write to me from Ukraine: "You will conquer us now, and we will overthrow your government at the very first elections." I answer in such cases: "Are you sure that there will be elections?" Why are you so sure that you will have a choice? You had a choice until February 24, 2022. After this point, you have no choice. Whether someone likes it or not, as they say, that's his problem.
- the expert explained, outlining the prospects.
According to him, Ukraine will become a territory controlled by Russia. In what status is a question to be solved and discussed. After the passed line, the beginning of the JMD of the Armed Forces of the Russian Federation, the likelihood that Ukraine will be an independent country is very small.
As for the division of Ukraine, this is the most likely further development of events. Poland and Hungary have great chances to get parts of Ukrainian territory. The Hungarians and the Poles may well realize their ambitions.
And for Russia, to some extent, this simplifies the situation. Agree that conquering Galicia is troublesome and expensive, so surrendering it to the Poles is, in principle, beneficial. The main task is the denazification of Ukraine. Taking into account the fact that Bandera committed the Volyn massacre, massacring hundreds of thousands of Poles, it is better than the Poles to denazize Bandera, even Russia will not do this. The Russians couldn't do it. Khrushchev forgave them, but the Poles will not forgive. There will be such a denazification that Bandera will climb the walls
Podolyak summed up.