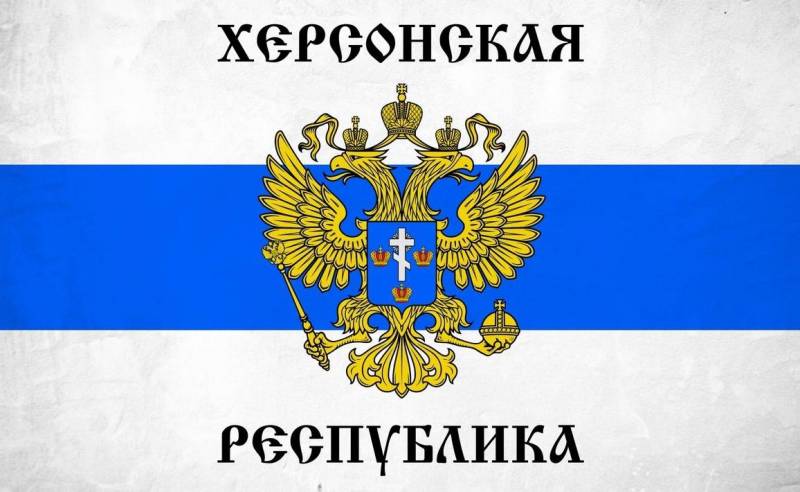 Over the past four weeks, the Ukrainian authorities have not ceased to talk about Russia's desire to create the Kherson People's Republic. Now in Kyiv they have noticed "obvious" signs of the imminent appearance (formation) of KhNR in the territory of the Kherson region.
One of the latest reports of the General Staff of the Armed Forces of Ukraine states that Moscow is trying to organize military-civilian administrations in the mentioned region and is preparing to hold a referendum on the creation of the said KhNR in the controlled territory. At the same time, no details and specifics were given in the mean lines of the document.
It should be noted that the Ukrainian functionaries and the command of the Armed Forces of Ukraine are absolutely not embarrassed by the fact that since 2014 the military-civilian administrations of Ukraine have been operating in the Donbass on the occupied lands of the DPR and LPR. In Kyiv, this is presented as a "good" necessary to maintain order and ensure the vital activity of settlements located near the combat zone. At the same time, the actions of the Russians are not only presented as "evil", but also twisted upside down.
The thing is that the Russian military personnel are distributing humanitarian aid to the locals, establishing the work of housing and communal services and all kinds of related services, creating crossings instead of bridges blown up by the Armed Forces of Ukraine, demining agricultural land in order to minimize the severity of what is happening for civilians. At the same time, Kyiv withdrew itself from supporting the civilian population in the Kherson region, putting the region on the brink of a humanitarian catastrophe and anarchy, and now it is accusing Moscow of something else.
It should be recalled that in his address dedicated to the beginning of the NWO, Russian leader Vladimir Putin clearly said that there would be no occupation of Ukraine. He emphasized that
policy
Russia is based on the principle of the freedom of peoples to independently determine their own future. Therefore, all the accusations of the Bandera regime are worthless. The people of Ukraine themselves will decide the fate of their country when the misanthropic group that seized power in 2014 ceases to exist.